Viewers in tears over Christmas special of Old People's Home for Four-Year-Olds
Ken was pulling at the viewer's heartstrings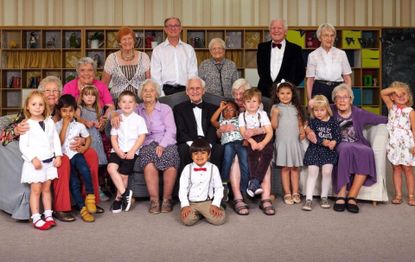 GoodTo newsletter
Sign up to the GoodTo Newsletter. You can unsubscribe at any time. For more information about how to do this, and how we hold your data, please see our privacy policy
Thank you for signing up to . You will receive a verification email shortly.
There was a problem. Please refresh the page and try again.
Widowed pensioner and star of Old People's Home for Four-Year-Olds Ken had viewers in tears as he watched videos of his late wife celebrating Christmas.
The Christmas special of Four-Year-Olds was always going to be a rollercoaster of emotions.
The interaction between the children and residents of Lark Hill retirement village is incredibly heart-warming and some of the scenes are just too cute!
For not the first time in the series, viewers were left in tears (opens in new tab) on Wednesday evening and this time it was Ken who set everyone off.
Fans were left reaching for the tissue box due to one particular scene where 87-year-old widower Ken opened up about his late wife, Barbara.
Following a battle with cancer, Barbara sadly passed away five years ago and Ken explained how his whole world very quickly changed.
During the emotional segment Ken sits down to watch some old videos of his wife, then aged 34, opening presents on Christmas day with their children.
Adding some context to the videos Ken explained: 'It was such a special Christmas because it was the first Christmas in the new home. She'd be 34 there... I could watch Barbara all day.'
Ken also opened about how happy his marriage was and how the couple met as teenagers.
He explained: 'We met at a dance she was 14 and I was 13, that was the start of our love affair. If I had a wish, I would go back to that particular Christmas.'
Although Christmas is still a happy time for the pensioner, it is bittersweet for Ken who says it takes him back to the moment he and Barbara were told her cancer was incurable.
He explained: 'Christmas now reminds me of the last Christmas we spent together when the doctors said Barbara was incurable. Both Barbara and I thought a miracle would happen and she would get better, but of course shortly after Christmas she gradually faded away.
'Christmas is hard for me because I realise what I have lost. Christmas is a tough time and sometimes I prefer to be on my own because I don't want to spoil it for anyone else.'
For viewers at home it all became too much and several took to Twitter to share their admiration of Ken's strength and admit that he'd left them in tears.
One person wrote: 'Ken watching old family videos.. I can't cope. 'I could watch Barbara all day' 😭 #OPHF4YO #oldpeopleshomefor4yearolds #OldPeoplesHome4YO #OldPeoplesHomefor4yo'.
Another added: 'Ken and Barbara. Now I'm crying. #oldpeopleshome4yo'.
A third said: 'Oh Ken, you're breaking my heart! #oldpeopleshome4YO'.
Did you catch the episode? You've still got time to watch it on catch-up! Head over to our Facebook page to share your thoughts and if you were left in tears by Ken's scene…