When will Storm Agnes arrive?
There's a yellow warning in place for the UK, so when will Storm Agnes arrive?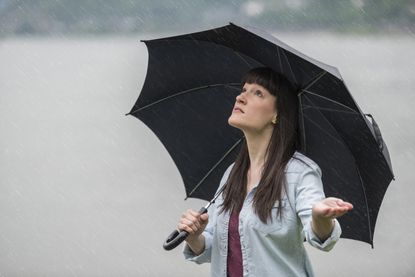 (Image credit: Getty Images)
We're being told to prepare for heavy rains and strong winds, so when will Storm Agnes arrive?
Yes, even though a rainy summer might have had you asking, why is the weather so bad in the UK right now?', more wet and windy weather is predicted to arrive this autumn.
Met Office has issued a yellow warning to indicate how severe Storm Agnes is going to be, which means that it's predicted to cause "low level impacts, including some disruption to travel in a few places."
If it's looking fairly balmy for a September afternoon where you are at the moment, you're probably wondering is Storm Agnes coming and when will Storm Agnes arrive? Here's what you need to know about the first storm of the season.
What time will Storm Agnes arrive?
Keeping the public updated on X (formerly known as Twitter), Met Office predicts that Storm Agnes will arrive on Wednesday, 27th September, from 12pm.
The tweet also said that the strongest winds are expected to carry on until early evening, as the UK's national weather service warned followers to stay #WeatherAware.
"Storm Agnes will approach southwest Ireland early on Wednesday and track northeast across Northern Ireland and Scotland before clearing on Thursday morning," states Met Office Chief Meteorologist, Matthew Lehnert.
"Gusts of 45-55 mph are expected widely inland and 50-60 mph over hills and around coasts."
Where will storm Agnes hit the UK?
"The strongest winds are expected to affect Northern Ireland, southwest Scotland, west and northwest Wales, Cumbria and Lancashire where some places inland may see gusts of 50-60 mph and 65-75 mph over hills and around coasts," Matthew continues.
You're most likely to experience these wind speeds during the second half of Wednesday afternoon and through the evening.
Storm Agnes is already making her mark on the UK, with reports of strong winds in Clonakilty Bay, Ireland and gale-force winds in Cork.
BBC Weather Presenter, Carol Kirkwood, said that the least affected areas will be South East England, where there'll be lighter winds and showers into the evening.
Taking to X, she wrote that the strongest gusts will be around the coasts and hills, and the combination may cause travel disruption.
Why is the UK getting so many storms?
UK weather has certainly become more turbulent over the last couple of years, with Storm Gladys, Storm Ruby and Storm Eunice bringing heavy downpours and strong winds in quick succession.
And, although storm season is upon us, extreme weather across the UK is becoming more frequent.
According to a report by scientists from the National Oceanography Centre for the UK Marine Climate Change Impacts Partnership, significantly higher waves and stronger storms battering Britain could be a knock-on effect of climate change.
Ever wondered how storms get their names and why are they named after people? Find out how Met Office chooses the name of our next UK storm. Get your family prepared for the wet and windy weather, as experts reveal the exact date to invest in your child's winter coat.
Elsewhere, we've revealed where Storm Ciaran will hit the UK too.
Parenting advice, hot topics, best buys and family finance tips delivered straight to your inbox.
Daniella is a qualified journalist specialising in fitness, nutrition and women's health. She has written for a number of consumer titles including Health & Wellbeing, Stylist, Women's Health UK, and Fit & Well.
With four years' experience in the wellness space, Daniella has tried and tested the best fitness kit on the market worth buying and has a keen eye for up and coming brands to look out for. She's also interviewed celebrities and co-produced a wellbeing podcast.