Where can I donate to Ukraine? Clothes, charity crisis appeals and more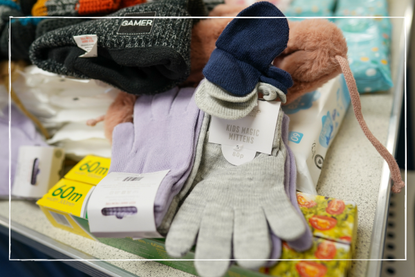 From cash and clothing donations to signing petitions and emailing your MP - as the conflict continues in the East, many want to know how they can help and donate to Ukraine.
Russia invading Ukraine (opens in new tab) has brought about devastating consequences for the country and it's civilians. And as the conflict continues to escalate, the Ukranian people require help and support more than ever. Whilst many of us are not elected representatives of NATO (opens in new tab) or politicians in a position to directly enforce Russian sanctions - we are able to lend a hand collectively. This can be done by signing up to house a Ukrainian refugee (opens in new tab), supporting charities and relief efforts, donating everyday essentials and putting pressure on officials to act fast.
According to the United Nations High Commissioner for Refugees, over 10 million Ukrainians have fled their country since war broke out. With a further 6.48 million people displaced in Ukraine as a result of the invasion. We've listed important organisations that are working to provide aid to these refugees, in addition to soldiers, orphaned children and nationals still living in Ukraine.
Where can I donate to Ukraine?
1. Disasters Emergency Committee (DEC)
Donations to the DEC (opens in new tab) helps fund 15 leading aid charities and their local partners in Ukraine and neighbouring countries to provide urgent relief and support to refugees and displaced nationals. So far, a huge £202 million has been raised, which will help provide food, water, shelter and medical assistance.
A donation of £30 provides essential hygiene supplies for three people for one month. £50 will provide blankets for four families, whilst £100 could provide emergency food for two families for a month.
"We are in this for the long term, for families who have lost everything, whose homes have been bombed and livelihoods lost," said DEC Chief Executive Saleh Saeed. "The destruction of vital infrastructure such as hospitals – as well as causing terrible suffering now - painfully demonstrates the lasting impact that this conflict will have and just why so many people are fleeing."
DONATE HERE (opens in new tab)
2. Red Cross - Ukraine
Working on the ground in Ukraine, the Red Cross are helping to distribute urgent aid and resources to those in need. They're asking for donations to help carry out their work, especially as they say "at any moment the situation may get worse, the consequences of which may be unpredictable."
Your donation will help in areas where medical services are limited and huminatarian aid is required. Donate via the official Ukranian Red Cross website (opens in new tab). Similarly the British Red Cross have also launched a Ukraine Crisis Appeal (opens in new tab) with money going towards the same cause.
DONATE HERE (opens in new tab)
3. Revived Soldiers Ukraine (RSU)
The nonprofit organisation helps funds medication and important supplies for army hospitals that are on the front line. The Revived Soldiers Ukraine (opens in new tab) website states they are "dedicated to providing aid to the people of Ukraine so that they may fulfill fundamental rights and freedoms such as right to life, right to appropriate and affordable medical care, freedom of belief and freedom for an adequate standard of living."
DONATE HERE (opens in new tab)
4. Voices of Children
This charitable Voices of Children foundation (opens in new tab) provides immediate aid to families affected by the invasion. It then additionally works with children to recover from the psychological traumas of war. Part of this includes art therapy and mobile pyschologists.
DONATE HERE (opens in new tab)
5. Kyiv School of Economics Appeal
The country's capital and it's population are on the frontline of invasion, having been subjected to terrible shelling and missile strikes from Russia. The Kyiv School of Economics (KSE) have teamed up with Ukrainian businesses and state-owned companies to provide on-the-ground humanitarian aid during this devastating time.
"The aim is to provide food supplies, transportation, refugees help for Ukrainian citizens affected by the war and purchase necessary medicines, first aid and protective kits for the State Emergency Service of Ukraine, Ukrainian Paramedic Association, and the Ukrainian Territorial Defense Forces to shield them against Russian aggression," their website states.
DONATE HERE (opens in new tab)
6. Aid Legion
Small but mighty Aid Legion (opens in new tab) is a new charity that's been set up by a group of Ukrainian entrepreneurs, marketologists, and creatives. Many of who have lost the ability to run their businesses due to the Russian invasion.
"We communicate directly with the heads of the territorial defense forces and volunteer networks across Ukraine," their website states. "We know what they need right HERE and NOW. And so we respond quickly and cover the most critical needs."
Aid Legion are asking for generous donations to help both forces and civilians. In support of the Ukrainian Defenders, Aid Legion provides safety equipment, drones, bulletproof vests, first aid, cargo, etc. Whilst civil victims will be given medicine, food, water, housing, and evacuation help.
They've already been successful in raising €3000 to buy 100 tactical vests that have been shared with forces in three districts of Kyiv. Where the conflict is very much frontline. You can choose to give to their next two projects - helmets and body armour for Army volunteers or medicine and equipment for compact field hospitals.
DONATE HERE (opens in new tab)
7. Sunflower for Peace
An independent Facebook fundraiser set up by Ukrainian national Katya Malakhova. Donations help to provide first-aid backpacks to doctors and paramedics working on the front line.
"Each backpack has the ability to save up to 10 lives: Ukrainian soldiers, civilians, volunteers, and children," the page states. "The backpack's contents are specially designed to be used by highly skilled military combat groups - marines, special forces units and intelligence. These groups operate in areas without access to MedicalFacilities or Emergency Care. Therefore, it's crucial that each combat group have a soldier capable of acting as a medic on the spot."
DONATE HERE (opens in new tab)
8. UNCHR Refugee Agency
The United Nations High Commissioner for Refugees are working hard to provide shelter and safety to Ukrainians who have been forced to flee their homes. They're asking for donations to their emergency appeal to help with this effort.
DONATE HERE (opens in new tab)
9. British-Ukrainian Aid
The British-Ukrainian Aid charity (opens in new tab) has launched a JustGiving appeal which works to support victims of the war like wounded soldiers, orphaned children and those internally displaced by the conflict.
"More than 3,000 civilians have been killed, and up to 9,000 injured since the conflict began in February 2014. 1.5 million people have become internal migrants."
DONATE HERE (opens in new tab)
10. United Help Ukraine
United Help Ukraine (opens in new tab) is a charity that "provide medical aid and humanitarian relief" whilst also raising awareness of the current conflict. They also have a programme called Wounded Warrior which helps soldiers with rehabilitation post-war.
DONATE HERE (opens in new tab)
11. CERF - The UN's emergency fund
The UN crisis relief collective have launched a Ukraine Humanitarian Fund (opens in new tab) to help victims of the current war.
"Contributions are collected into a single, unearmarked fund and managed locally under UN leadership," the website states. "As crises evolve, funds are made directly and immediately available to a wide range of partner organisations at the front lines of response. This way, funding reaches the people most in need when they need it."
DONATE HERE (opens in new tab)
12. Razom
Razom (opens in new tab) - which translates to 'together' in Ukrainian - are a non-profit organisation that supports Ukrainians in their quest for democracy and freedom. They've launched an emergency appeal in response to the Russian invasion, providing medical relief to soldiers and doctors on the front line.
DONATE HERE (opens in new tab)
13. With Ukraine
"The Embassy of Ukraine in the UK set up a special fund to provide humanitarian assistance to the victims of Russian war against Ukraine," this website states. You can donate via card, Paypal or bank transfer via the official With Ukraine website (opens in new tab).
DONATE HERE (opens in new tab)
Where can I donate clothes to Ukraine?
White Eagle Club, London
Britain's Polish communities have been coming together to help Refugees crossing the border into Poland from Ukraine. The White Eagle Club on Balham High Road in London is one leading the campaign, asking for more donations to sort and ship over this April. In their latest update they're particularly asking for food: tinned, canned and instant packets of pot noodles and powdered soup. Plus hot drink supplies and baby food and formula.
https://www.facebook.com/490333667805651/posts/1999940246844978/?d=n
The group are continously updating their Facebook page (opens in new tab) with further dates and details on donations. So be sure to check ahead before turning up. The centre's official address is: 211 Balham High Rd, London SW17 7BQ. (opens in new tab)
Prosperity Restaurant, London
Ukrainian restaurant Prosperity based in Twickenham are continuing to open their doors to donations. In their most up-to-date item list they are requesting medical supplies, new socks and underwear, thermal clothing and sanitary supplies for adults and babies.
You can find the full list of items needed in the Donations story highlight on their Instagram page. Drop off times include Tuesdays: 11am-6pm, Wednesday - Saturdays: 11am - 9pm and Sundays: 12am - 9pm. The restaurant's address is: 59 York Street, Twickenham, TW1 3LP (opens in new tab).
Polish Social Club, Southampton
This Southampton based organisation is collecting and sending supplies to Medyka on the Polish-Ukrainian border to help refugees who have fled their homeland. Items they are currently requesting are sleeping bags and foldable camping beds, head torches, first-aid kits, baby food and formula plus tinned food and over-the-counter painkillers.
https://www.facebook.com/593991747348970/posts/4853222878092481/?d=n
In addition to supplies, they're asking for volunteers who can help pack up the parcels. You can find details on how you can help via their Facebook page (opens in new tab). The social club's official address is 507 Portswood Road, SO17 2TH (opens in new tab).
Ukraine Lifeline - 6 UK locations
Donate to Ukraine at one of these 6 drop-off locations organised by non-profit group Ukraine Lifeline. They're urgently asking for items like non-perishable food, thermal clothing, first-aid and medicine kits plus tents and women's sanitary products.
https://www.facebook.com/100231579285369/posts/111812261460634/?d=n
They're updating their Facebook page (opens in new tab) constantly and hoping to add more drop-off locations so watch this space.
Central Beds Ukraine Appeal, Bedfordshire
Spearheaded by Katarzyna Southin and Emily Roberts. People in central Bedfordshire villages have been donating much needed items to Ukrainian refugees thanks to their Central Beds Ukraine Appeal. However though physical donations ended on April 1, they're still making trips with supplies and are now seeking financial donations via their GoFundMe page (opens in new tab) to help the effort.
https://www.facebook.com/groups/384457343404854/permalink/401836985000223/
"We have teamed up with local cadets at Krakow Central Station to provide food, snacks and drinks to families passing through from przemysl Station before we head to the orphanages (4 hours away) and support them for the next few days," Emily explained on the page.
"We are hiring a minibus (paid personally) and will buy all the essentials from local supermarkets. The more money we receive, the more we can buy for those in need so every penny is vital! Please continue donating to our GoFundMe page and we will ensure all your money is spent in the best possible way."
Foodstock, West Belfast
After a successful aid request for medical supplies and food, Foodstock (opens in new tab) in West Belfast are now asking for donations for Disability Aid in Ukraine. The Social Democratic and Labour Party leader for West Belfast, Paul Doherty is co-ordinating the appeal and subsequent shipping. Wheelchairs, walking frames, ramps and any other disability related items are being requested.
Those that have such items are being asked to email disabilityaidNI@gmail.com. They will then receive information back on future drop-off locations and times. The Foodstock centre's official address is: 150 Andersonstown Road, Belfast BT11 9BY. (opens in new tab)
How else can I help Ukraine?
Contact your MP
A quick email to your MP expressing support and further action takes just 5 minutes. You can find details of who your local MP is via the Write to Them website. A template email (opens in new tab) is available to copy and send if you're unsure of what to say. The consensus is that it's quantity not quality of email, so no need to overthink it.
Sign a Petition
There are a number of national and international petitions underway that will be debated by governments and leaders once a set number of signatures have been raised. Sign one or two, or all of the following:
Get your information from reliable sources
In an era of social media and fake news, a lot of misinformation is spreading online about the invasion. Ukranian titles like The Kyiv Independent (opens in new tab) and The New Voice of Ukraine (opens in new tab) are two reliable news sources that are on the ground covering the conflict. They're also asking for donations to continue their reporting. In addition to their appeals, consider following these Ukranian-based journalists for up-to-date information:
Host a Ukrainian refugee
Housing site Shelter4ua.com wants people across the globe to sign up to host a refugee in any spare rooms available. When on the site click the 'I can help' button to fill out a form. Shelter4UA have also produced a worldwide map (opens in new tab) showing countries that are offering temporary accomodation to Ukrainians too - which is helpful if you're trying to help a loved one affected by the conflict.
Similarly, Airbnb have pledged their support (opens in new tab) to supply free housing to 100,000 Ukrainian refugees. They're also waiving their guest and host fees in the wake of people booking Ukrainain Airbnbs - to directly donate to those in Ukraine who are affected.
Sarah Archer, UK sales manager for Beachcomber tours, explained on Twitter: "Booked a weekend in Kyiv on [Airbnb]. Pick closest date, random apartment run by an individual not a company, book, pay and send a message of support while telling them you're a no show."
Fellow Twitter user Mario DiMaggio also shared how she had done the same - much to one Ukrainian's delight.
Join a local campaign group
There are a number of online community groups that have launched across the UK. Many are run by Ukranian nationals who want to educate people on the history of the conflict between Russia and Ukraine. And some have additionally organised rallies in cities like London and Sheffield for people to join and protest against the invasion. Suggested groups to follow include Ukraine Solidarity Campaign (opens in new tab) and Euromaidan London (opens in new tab).
There's also the global group UkraineNow (opens in new tab) which you can sign up to as a member for free. They are helping with all things food, medical, evacuation and getting cash to those in need on the ground. You can also sign up to host a Ukranian who has fled the country and is seeking shelter.
Video of the Week:
Emily Stedman is the Features Editor for GoodTo covering all things TV, entertainment, royal, lifestyle, health and wellbeing. Boasting an encyclopaedic knowledge on all things TV, celebrity and royals, career highlights include working at HELLO! Magazine and as a royal researcher to Diana biographer Andrew Morton on his book Meghan: A Hollywood Princess. In her spare time, Emily can be found eating her way around London, swimming at her local Lido or curled up on the sofa binging the next best Netflix show.