The 9 types of mum you ALWAYS see on the first day back at school
Need a tissue, or can't wait to get the house back to yourself?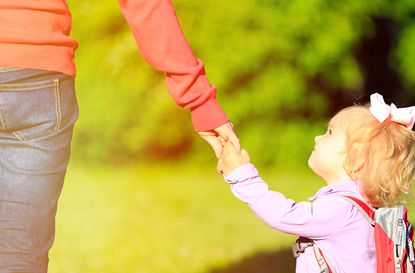 (Image credit: Getty Images/iStockphoto)
Goodto Newsletter
Parenting advice, hot topics, best buys and family finance tips delivered straight to your inbox.
Thank you for signing up to GoodTo. You will receive a verification email shortly.
There was a problem. Please refresh the page and try again.
The first day back to school is always a mixture of emotions - you're most likely super relieved to pack the kids off to school again, but you're also a little (okay, very) sad that they're another year older and more independent than ever.
Getting back into the full swing of the school routine takes some serious effort each September for every parent, but some handle their moment on the first day a little differently to others!
There's always someone that's more excited than the kids, someone that's boasting about their tropical getaways, and there's always one that's using up all of your tissues - especially if it's their child's first EVER day at school!
We've put together a very honest list of the most classic first-day mums you'll see in the playground when term kicks off again. Now, tell us - which one are you?
The emotional mum
We all get a tear in our eye over the reminder that our baby is one year older and is probably too old to be called a 'baby', but this mum takes it to the next level. And if her kid is starting school for the VERY first time, she's going to be a full on sobbing wreck. We've all been there!
The Pinterest mum
She's lugging around a fancy camera with a big lens, snapping away at her kids' adorable yet impractical outfit, has a customised monogrammed backpack made by Mummy, and is holding up a cutesy chalkboard sign saying 'My first day' in fancy curly handwriting. Just... how?!
The nervous mum
The nervous mum is pretty anxious on any school run, but the first day back makes her even more panicky! She'll be busy asking 100 questions about everything from classroom safety to what's for lunch, all while she watches her child on that swingset like an absolute hawk. It's easy to recognise her child - they're the one bundled up in the winter coat. In September.
The ecstatic mum
She's so so excited to finally have her house back, and is practically shoving her kids out of the car because there's a cold bottle of prosecco and a bathtub calling her name at home...
The PTA mum
You've had six weeks of freedom, but you can't escape her any more. She's a ferocious member of every school society, and is determined to rally everyone up for the new school year. Armed with a clipboard and sign-up sheets to recruit new victims, there's no hiding from her now that you're face to face!
The holiday mum
You'll barely be able to look at the holiday mum because her tan is just too bright, but still she rattles on to you about her 'ah-mazing' holiday in St Barts, going on about their glass-bottomed boat trip when she knows full well that you only made it to Bournemouth this summer.
The cliquey mums
You know full well that they haven't bothered to meet up during the holidays, but now that school is back in full swing, they're suddenly gathering in their packs and won't let anyone into their huddle in the playground. But be honest, would you really want to be in their snobby gang anyway?
The super-organised mum
Her whole family all arrive three minutes early with their bookbags, backpacks and full P.E. kit. Her label-maker might as well be her third hand, cos she's stuck them on everything: plimsolls, underpants... skin. She spends the six exact minutes that she's allocated for catch-ups with the other mums, then drives off for her next appointment. You have to applaud her efficiency...
The teacher's pet
Now that school has started, she's amping up her mission to get in the teacher's good books - she won't leave the teacher alone, has brought them gifts from her holiday, and is complimenting them way more than necessary. We see through your plan, teacher's pet mum, and we still don't think it'll get your kid in the top set for maths!
Are you guilty of being any of these back-to-school mums? Let us know!
Parenting advice, hot topics, best buys and family finance tips delivered straight to your inbox.
Trusted, informative, and empathetic – GoodTo is the ultimate online destination for mums. Established in 2007, our 15-year-strong archive of content includes more than 18,000 articles, 1,500 how-to videos, and 7,000 recipes.