Gemma Atkinson defends having a c-section: It's not 'the easy option'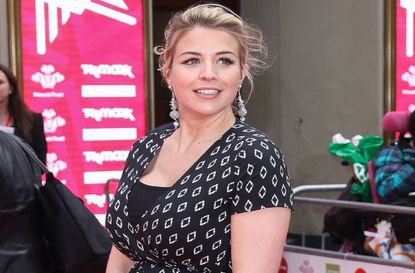 Goodto Newsletter
Parenting advice, hot topics, best buys and family finance tips delivered straight to your inbox.
Thank you for signing up to GoodTo. You will receive a verification email shortly.
There was a problem. Please refresh the page and try again.
The former Strictly Come Dancing star has hit back at a recent comment that she 'didn't experience a proper labour'.
Gemma Atkinson has shared a candid Instagram post after facing some criticism over having a c-section when in labour with her daughter, Mia. The 34-year-old gave birth in July this year with partner Gorka Marquez by her side and, due to complications, had to undergo an emergency caesarean section.
In the caption of her heartfelt Instagram post, Gemma reveals how a woman recently joked about her experience.
Revealing details of the incident on Instagram, the TV star recalled how the woman had told her that she 'had the easy option when it came to having Mia', because she 'didn't experience 'proper labour'.
Read more: Gemma Atkinson silences critics by explaining why she is charging for daughter Mia's baby photos
She added: 'She wasn't being nasty, she said it in jest and she was actually really lovely, but it did get me thinking when I got home.
'Had I failed? Had I not done it 'properly' ? After a good chat with myself i came to the conclusion that the only 'proper' way to have a baby is the way that's safest for you and your baby. [sic]'
In defence of her c-section, she shared a poem, which read: '"Cut me open. I love my baby so much, that I will do anything to get my baby out of my body alive. Lay me out. Cut me open because I love my baby so much."
'That is courage. That is bravery and mothering in its purest form. This is the willingness to lay down your body and risk your life so that your child might be born, that your child might live.'
The powerful post amassed nearly 42,000 likes and over 3,000 comments, from fans who were full of admiration for her inspirational words - and keen to share stories of their own.
'I've experienced both, my son cane down the log flume but my daughter came out of the sun roof and I can honestly say having a c section is by far the worst. Please don't listen to ppl who suggest otherwise!' read one comment.
'This. Just this 🙌🙌 I've had 2 c.sections ... first was an emergency after a failed induction there was nothing at all easy about it I just wanted my girl here safe and sound and the 2nd was a planned c.section so calm compared to the first one but painful afterwards. Anyone who thinks it is easy its far from it xxx' wrote another.
Read more: Gemma Atkinson reveals traumatic moment she was rushed to A&E during pregnancy
She also shared another message for her 1.2million followers, which read in the caption: 'However you brought your baby into the world was right for you and your baby at that time and that's what matters.
'To any mums who like me, had to have a section and are feeling a little odd about it (which is normal) the above is for you.'
Wise words, Gemma!
Parenting advice, hot topics, best buys and family finance tips delivered straight to your inbox.
Lauren is a senior content editor covering everything from the latest royal news to fashion, beauty and health content. Lauren graduated from her masters in magazine journalism in 2011, quickly making the transition over to digital and has never looked back. From getting out a breaking news story to penning an in-depth feature, she loves the variety of writing for digital platforms.