We earn a commission for products purchased through some links in this article.
Image: Facebook/Gemma Colley
All mums make mistakes from time to time – but poor Gemma Colley's latest mummy mishap was more visible than most.
The mum-of-two had gone for a spray tan without thinking much of it – until she breastfed her baby boy just a few hours later, and THIS happened.
Facebook/Gemma Colley
Luckily, Gemma had a sense of humour about the whole situation, and decided to share her gaff with Facebook page The Unmumsy Mum.
'From one mum to another, I'd like to let you know about my epic fail of fails,' she wrote. 'Yesterday I had a spray tan, a few hours later I breastfed my little boy. Cue 5 o'clock shadow and a very guilty mummy. Lesson to you all. Don't do this!'
However, it turned out that Gemma was not alone in accidentally turning her newborn a rather fetching shade of orange.
'I used the garnier moisturiser that tans you over a few hours. Forgot I had it on, went to bed and had cuddles with little on… Next day she had a lovely tanned arm!' one mum admitted, whilst another said, 'The last time I went for a spray tan, my little one was due a feed and while I was standing waiting for the tan to dry I started leaking everywhere! I was totally mortified. And yes it does take the tan off!'
Fortunately for Gemma's son, the tan didn't have too much staying power, and she later posted an update of this little chap looking a little more angelic cherub, a little less tiny Homer Simpson.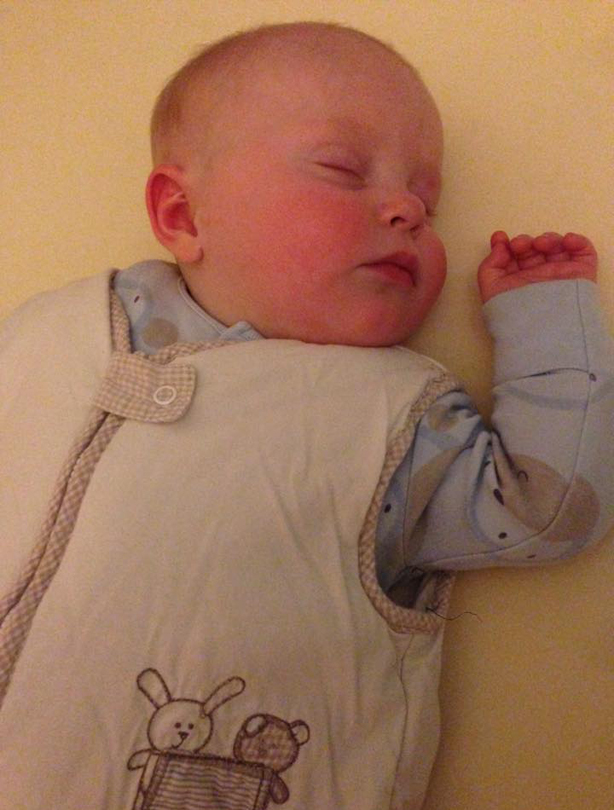 Facebook/Gemma Colley
'Photo evidence that tonight's feed was much less orange,' Gemma told the page. 'Thanks for all the positive comments. I'm just another mummy trying to shed light on the adventures and misadventures of being a parent. X'
Although fake tan is just a topical product and won't do the baby any harm, Dominique Lavac, owner of spray tanning business Bondi Tans, told the Daily Mail Australia that there are a few ways to prevent your tot from getting bronzed.
'I suggest that mothers express enough milk to last for the time the spray tan has to set, and if possible even for a few feeds after that,' she explained.
'I would recommend a two hour tan so it won't make much of an impact to feeding time. I always put a barrier cream on the nipples, to prevent the DHA and tan from getting on there at all and some clients like to use Band-aids (plasters) as well.'
Dominque also suggests using a dry flannel between mum and baby for extra anti-orange insurance.
Since the original post, the picture has been shared more than 38,000 times, and attracted media attention from around the world. Although we can definitely see the funny side of Gemma's incident, we're also very glad she's saved us from making the same mistake…