George Galloway set to become a dad for the fifth time
The new baby is expected in March, and will be his and wife Putri's second child together.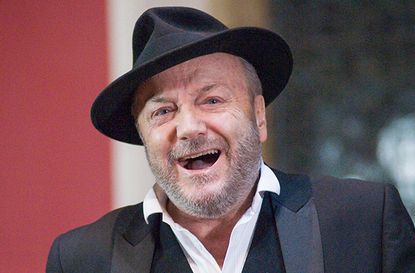 (Image credit: Roger Askew/REX/Shutterstock)
Politician George Galloway is expecting his fifth child with his fourth wife, Putri Gayatri Pertiw.
He announced the news via Twitter, with a photo of him and Putri together captioned: 'By the Grace of God we are grateful to announce we expect a new baby in March, God-willing. A sibling to Lucy, Zein, Faris and Toren.'
George, who at 62 is 30 years older than his wife, has one child with Putri.
Putri, a Dutch anthropologist of Indonesian heritage, married George in Amsterdam in 2012, four months after George's third wife, Rima Husseini, gave birth to their third child.
Putri has a degree in cultural anthropology as well as a masters degree in children's rights.
[twitter]
George attracted a lot of attention after being part of Celebrity Big Brother in 2006, where he went on all fours and pretended to be a cat, miming licking cream from actress Rula Lenska's hands and purring.
George became the youngest ever chairman of the Scottish Labour Party in 1981, and is said to be aiming to return to the Commons this year. He was also expelled from the Labour Party in 2003, and is currently a member of the Respect Party.
Author Saurav Dutt posted on Twitter, 'Superb news and my heartiest Congratulations to you @georgegalloway and Gayatri.'
Other users wrote, 'massive congratulations! Babies are the best thing on this planet,' and 'not religious myself but probably not a bad thing to have another little Galloway on the Planet,' to which George replied with his thanks.
George is dad to Faris Galloway, Lucy Galloway, Zein Galloway, and Toren Mustaqim George Galloway. He married his teenage sweetheart Elaine Fyffe in 1987, but separated later that year and did not divorce until twelve years later.
He then married Dr Amineh Abu-Zayyad in a Muslim ceremony in 2000, but divorced in 2009. His marriage to Rima Husseini lasted four years from 2007 to 2011.