Geriatric mother: why is 35 years old considered a geriatric pregnancy?
Geriatric mother is the medical term used, to describe pregnancies in women over the age of 35 years old. It's also known as a geriatric pregnancy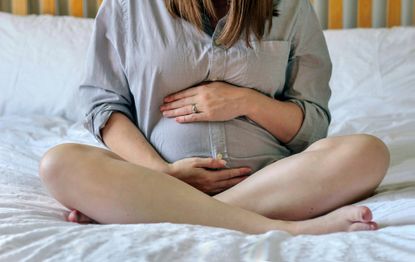 Geriatric mother is the hard-hitting term that the medical profession have used, over the years, to describe pregnancies in women over the age of 35 years old.
Geriatric mother, at 35 years old? Now, as a rule 35 isn't considered old in our society, you're not shopping for nursing homes just yet, so it's baffling as to why a pregnancy past this age is dubbed 'geriatric', though you may also hear the softer term 'advanced maternal age' which classes your pregnancy as a geriatric pregnancy.
While many of us think falling pregnant past the age of 30 is difficult, the figures don't lie. The over-35's now have the fastest growing birthrates and the number of women having babies in their 40's have nearly doubled in 10 years.
In addition, statistics show that in 2010, 27,000 babies were born to women over 40 compared with just 9,336 in 1989. In fact around one in five women are aged 35 or older when they give birth.
Historically women had babies in their 20's, btu nowadays however women use this time of their life to build careers and relationships, leaving babies until later in life.
While most have perfectly healthy pregnancies and babies, being an older mum can affect your pregnancy and the birth.
What does geriatric mother mean?
A geriatric mother is a woman who is having her first baby at 35 years or older.
Basically, all this term means is that:
A) your doctor is out of touch and should actually be referring to you as 'advanced maternal age' and
B You're over 35 years of age and pregnant.
That's all it means.
No attention is paid as to whether this is your first pregnancy, whether your partner is over 35, if you're overweight not even if you're healthy or not, this term is literally based on your age.
At what age do you become a geriatric mother?
35 years and older is when this term is used. According to a report by the Royal College of Obstetricians and Gynaecologists (RCOG) the College specified that the optimal age for childbearing is 20 to 35.
What is the best age to have a baby?
What are the risks of a geriatric pregnancy?
Not only do you risk being called a geriatric mother, but according to the NHS as women get older, both mothers and babies face an increased risk of pregnancy-related complications and health problems.
These are due to changes in the reproductive system and general health problems that comes with age.
Problems may include:
Greater difficulty in initially conceiving a child, with the personal and psychological difficulties that this can cause.
Increased risk of complications for both mother and infant during pregnancy and delivery (although the actual size of the risk may be small).
Greater risk of general maternal health problems, such as high blood pressure
Higher risk of miscarriage in women above the age of 35
Higher risk of having twins or triplets
Increased chance of having a baby with a congenital abnormality (ie Down's syndrome)
Increased risk of pre-eclampsia
Increased risk of complications during delivery, such as prolonged labour, need for assisted delivery or Caesarean section, or stillbirth
Though, it's important to remember that according to the British Journal of Obstetrics and Gynaecology's editor: 'Where there are no tangible medical complications of pregnancy, the risks of childbirth in older women are no greater than in younger women.'
What are the benefits of a geriatric pregnancy?
Having a baby later in life isn't all about bad news and health risks. Women who wait to have children have many benefits at their disposal.
Older mothers have more resources to care for their children they tend to be better educated, more financially stable, confident and settled in themselves. They have the emotional maturity and life experiences.
And, you're in good company with some famous faces joining the geriatric mother club!
Nicole Kidman had her daughter, Sunday Rose at 41, Halle Berry had daughter Nahla at 41, while red head Marcia Cross welcomed twin girls at 44 and Susan Sarandon gave birth to son Miles Guthrie at 45.
Stephanie Lowe is Family Editor at GoodTo covering all things parenting, pregnancy and more. She has over 13 years' experience as a digital journalist with a wealth of knowledge and experience when it comes to all things family and lifestyle. Stephanie lives in Kent with her husband and son, Ted. With his love of choo-choos, Hey Duggee and finger painting he keeps her on her toes.