We earn a commission for products purchased through some links in this article.
Actors Ginnifer Goodwin and Josh Dallas revealed they're expecting their second child together last November, and now the expectant mother has spilled the beans on the baby's gender.
The fairytale couple, who play Snow White and Prince Charming on the TV series Once Upon a Time, confirmed the happy news to People magazine a few months ago.
In a week full of exciting celebrity baby news, we now know the gender of Ginnifer and Josh's baby – it's a boy! He will be their second little man in the house, as Ginnifer and Josh are already parents to Oliver Finlay, 17 months, who they welcomed just one month after they got married in April 2014.
The Once Upon a Time star will be giving birth to her second child in a few months
At the same time she gave the world the latest update on her growing baby bump, the fictional Snow White also revealed one of her biggest fears – and we can only say it's not exactly a common one amongst parents.
'I have a couple of deep, dark fears about childrearing, like they won't love Disneyland because I'll over-saturate them', she said in the latest issue of the Disney fan club magazine, Disney Twenty-Three.
Her first-born is turning out as big a fan as she is, but who knows how the second one will feel!
'We've gone to Disneyland probably a bit more than is healthy. Oliver loves, loves, loves it', the 37-year-old said. 'I have a video of him having a dance jam with Pluto and Donald. He cries when we take him away from the characters instead of what most toddlers do, which is cry when the characters come to them.'
Disney-related parenting fears aside, the actress seems to be completely comfortable in her role as a mother.
Her husband Josh often gushes about his wife's parenting skills, calling her the greatest mother he knows: 'It's extraordinary to have your partner, who you've known all this time, blossom into this woman… who is so nurturing, so caring and just so cool. She's so cool and she's a cool mom. She is literally the greatest mother that I know.'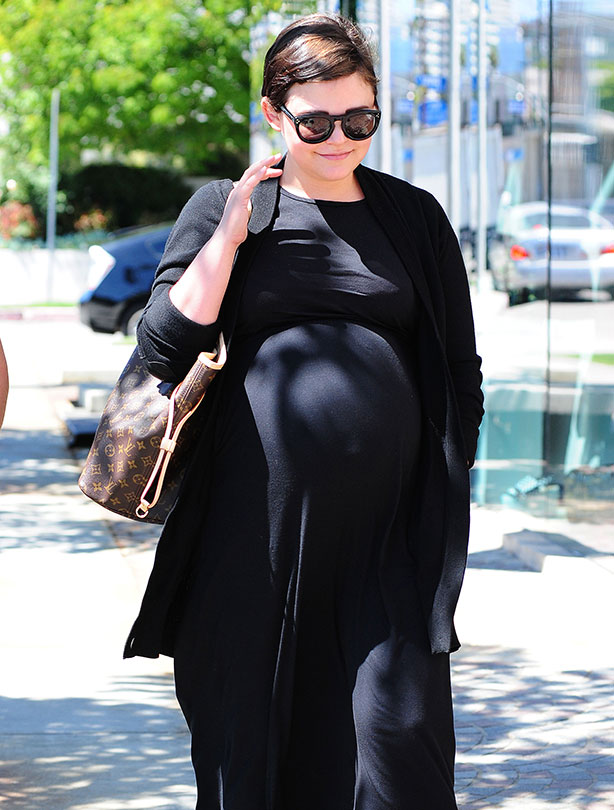 Ginnifer pregnant with her first son in April 2014
The admiration seems to go both ways for the happy couple. Ginnifer has referred to her husband as her 'knight in shining armor' because he's so committed to fatherhood.
In 2014, the on-screen Prince spoke about his experience of being a dad, joking about his lack of sleep.
'Sleep is elusive; a slippery devil. I can't seem to ever catch it', the actor said. 'There's somebody else that you have to take care of… you don't think about yourself anymore. But it's a pleasure to do that, he's my little dude!'
The stars fell in love on set of the American TV show, and their romance has mimicked their on-screen relationship.
After their wedding, Ginnifer shared details of the ceremony, saying she 'married Prince Charming'.
'We're both southern, so I was literally barefoot and pregnant at our wedding,' said the 37 year old. 'I was afraid I would fall over. I don't know what I was thinking.'
Ginnifer, who has previously starred in films like 'He's Not That Into You', has not been coy about wanting to have more children. In the beginning of the year, the actress said: 'We'll have as many as the universe will grant us.'
A few months later her husband confirmed their desire for more children: 'Maybe somewhere down the road. We'd like to give this guy a brother or a sister for sure. Close in age would be nice… Have a little buddy.'
Looks like they're living happily ever after!