'I feel I need to justify my decision' Giovanna Fletcher praised by fans for honest account of travelling without her children
'I didn't need absence to make the heart grow fonder'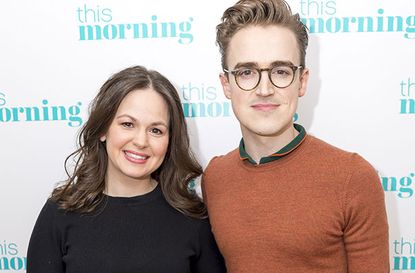 GoodTo newsletter
Sign up to the GoodTo Newsletter. You can unsubscribe at any time. For more information about how to do this, and how we hold your data, please see our privacy policy
Thank you for signing up to . You will receive a verification email shortly.
There was a problem. Please refresh the page and try again.
Giovanna Fletcher has opened up about her recent experience of travelling abroad without her children.
The author, who is mum to Buzz, three, and Buddy, one, attended the wedding of a schoolfriend in Dubai, and took to Facebook to share an emotional account of her time away from her boys and husband Tom.
Explaining that for a 'variety of reasons' the couple had decided that their children wouldn't join Giovanna on the trip, she wrote: 'Tom suggested I go on my own while he stayed at home with the boys. I'll be honest, I was tempted and horrified in equal measure.'
https://www.facebook.com/MrsGiFletcher/posts/1112098458936352:0
'The thought of leaving the boys made me feel terrible, but I know other parents have been away on solo trips AND ENJOYED IT. Plus, I really wanted to see my friend get married and support her on her exciting day. As I'm typing this I feel I need to justify my decision to go. I don't. I know the situation better than anyone reading this might think they do so I'll stop right there...'
She then detailed the many aspects of the trip that were enjoyable, including sunbathing, sipping on piña coladas and sleeping without being woken by 'a screaming/singing/babbling child'.
'I went to the loo by myself. I got myself ready in the mornings and evenings without worrying if my hair straighteners were out of reach enough, and without little hands grabbing at my make up and trying to have a go on their own faces (the other day I caught Buzz trying to use my mascara as lipstick),' she added.
'I ate dinner in peace. I had unbroken conversations with friends. I danced for hours and jumped around like a loon because I had no one to worry about but myself.'
https://www.facebook.com/MrsGiFletcher/posts/1112069142272617
However, she goes on to say that there was a big 'but' to all of the positives: 'I wasn't with my children.'
'Obviously I spoke to them several times a day on FaceTime, but I didn't see their big brown eyes properly looking at me with their love and cheekiness. I didn't feel their skin on my lips as I gave them millions of kisses. I didn't feel their weight against my body as I held them close into a hug…'
Giovanna penned the post on her flight home, and admitted that she felt emotional about the prospect of returning to her family.
'As I fly over three thousand miles of earth and sea to get back home to them I'm suddenly hit with longing. I long for them so much it hurts.'
'Yes, I encounter moments of frustration as a mum. Yes, I feel like I'm getting it wrong most of the time and struggling to keep the balls in the air. BUT, I have the love of two gorgeous little boys and they will forever be the centre of my world and the reason for my heart to keep dreaming. I didn't need absence to make the heart grow fonder. They are my world and have been since the moment I met them.'
https://www.facebook.com/MrsGiFletcher/photos/a.164144170398457.56035.154976444648563/1111524458993752/?type=3&theater
Hundreds of fans have since applauded the 32-year-old's candid post, with many praising her for being so 'down to earth' and 'relatable'.
'Beautifully put Gi!!!!' one said. 'You need some "you" time sometimes to remember who you are and great yourself. That doesn't make you a bad Mum and you shouldn't feel guilty!! I love you for being so normal! Thank you Gi!!'
'Beautifully written, being a mum is tough work,' another empathised. 'We do need a break sometimes but nothing will ever beat the overwhelming feeling of love and affection when you are reunited with those little monkeys who drive you crazy!!! Enjoy those kisses and cuddles!'
'You don't have to justify yourself,' a third told Giovanna. 'Every mum and dad needs time off sometimes to recharge them batteries and just be yourself. Think times away without the children make you appreciate what you have more. Your boys were well looked after. Hope you had a great time, u deserve to.'