Greg Rutherford and partner Susie Verrill welcome their second child
'We couldn't be happier right now ❤️'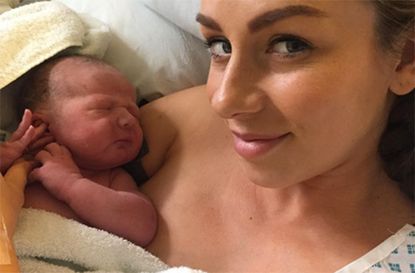 Greg Rutherford and Susie Verrill have welcomed their second son together.
The pair took to their respective Instagram accounts to announce the safe arrival of their little boy Rex, each writing a poignant message about his birth.
'For the second time in my life I've become the richest man in the world. Welcome to the family Rex. I love you,' Olympic star Greg told his 120,000 followers. @susiejverrill has done it again. Created a beautiful baby. I can't wait for all the adventures.'
In her own post, Susie added: 'Rex Gregory Mowgli Rutherford, meet Instagram. Instagram, Rex Gregory Mowgli Rutherford. We couldn't be happier right now ❤️.'
Fans have rushed to congratulate the pair, with one exclaiming: 'Perfect little family grows a tiny bit bigger. How wonderful. Congratulations to all up on cloud nine at the moment.'
'Congratulations @gregjrutherford gorgeous baby and awesome name x,' another agreed.
Greg and Susie are already parent to eldest son Milo, who arrived in October 2014 - a moment which Greg has since said was the 'happiest day of my life.'
They revealed that they were expanding their family back in April, with a sweet snap of their family together where Susie revealed her growing bump.
'Nope, not a brunch gunt, baby boy number 2 growing nicely ready for arrival in July ❤️' Susie quipped at the time.
Greg, meanwhile, posted a similarly jokey caption about his upcoming life with another boy: 'Me and @susiejverrill are absolutely thrilled to announce we'll be having our second son in July,' he said.
'Milo can't wait to share all the toys he doesn't like/want with his little brother and likes to ask us daily if he's 'got his own tools?' Yes son, like all good newborns, we're expecting him to arrive screwdriver and hammer in hand. #CreatorOfBoys #HELP #HELPME #PLEASEHELPME'