'Girls are awesome' Harry Judd shares empowering Instagram post for his daughter Lola
The post has struck a chord with his followers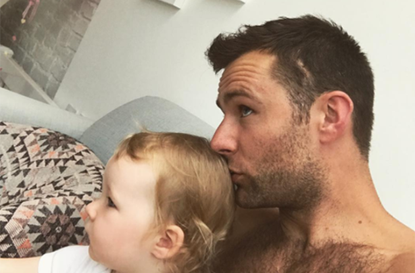 McFly drummer Harry Judd has warmed the hearts of his 570k Instagram follower with a sweet snap of him and daughter Lola, with an even sweeter caption to boot.
Doting dad to one-year-old Lola, Harry is currently expecting his second child (opens in new tab) with wife Izzy, but that hasn't stopped him indulging in plenty of quality time with his daughter - and his latest post gave followers an adorable insight into their relationship.
Opening up about an incident he'd witnessed earlier that day, Harry explained: 'Mummy's away today so we've had some daddy daughter time.'
'Over heard some guy telling his son to stop screaming like a girl. A comment I'd never given a second thought until today. Then he said it again "Stop screaming like a girl!".'
'All I could think was what will Lola say when she understands what he said? Probably "What's wrong with screaming like a girl Daddy?" And I'll tell her that there's nothing wrong with screaming like a girl and that it's actually a compliment because girls are awesome.'
After reading the statement, Harry's 569,000 followers quickly took to the comments section to celebrate his empowering stance, with hundreds applauding him for his words.
'I actually overheard a dad tell his son if he keeps screaming like a girl he will slap him like a girl,' empathised one shocked fan. 'I'm glad my baby is only 14 months and didn't understand him.'
'My heart just exploded. Girls are awesome. And incase anyone hasn't told you today you are awesome,' said another.
A third agreed: 'At a local fair football match a Dad shouted at his son about getting tackled by a girl. The girl was mine and she eventually got "best player" trophy. You don't know til you have #awesomegirls! Thanks for spreading the good word @harryjudd.'
Harry and Izzy fell pregnant again naturally early this year, after struggling to conceive (opens in new tab) the first time round and undergoing multiple rounds of IVF.
Announcing the second pregnancy back in April via Instagram, Izzy said: 'Harry, Lola and I are so happy to share our news. After having IVF to conceive Lola people used to say to me you'll probably fall pregnant naturally next time.'
'I wondered how it would ever be that simple after all the difficulties we have previously faced. I never believed we would be lucky enough, but whilst writing Dare to Dream this little miracle happened. I want to give others hope that amazing things can happen.'