McFly's Harry Judd announces wife Izzy is pregnant with their second child
Such a cute announcement!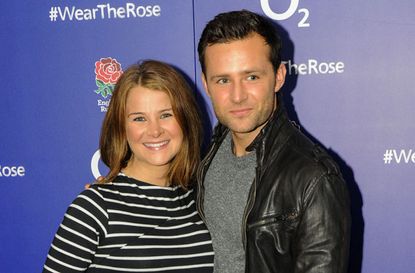 Harry Judd has announced on social media that his wife Izzy is pregnant with their second child.
The McFly singer took to Instagram to share the happy news with fans, with a little help from soon-to-be big sister Lola.
To announce they're expecting their second child, Harry posted a picture of wife Izzy with their daughter Lola, in which they're both cradling their stomach in matching dungarees. The only difference between mummy and daughter is that one has a big baby bump!
Harry captioned the snap: 'Lola, where's baby?'
Izzy also took to social media to share the lovely news, with a picture of Lola leaning in to kiss her baby bump.
In the caption, Izzy revealed the couple got pregnant naturally this time, after undergoing IVF treatment (opens in new tab) to conceive Lola.
'Harry, Lola and I are so happy to share our news. After having IVF to conceive Lola people used to say to me you'll probably fall pregnant naturally next time. 'I wondered how it would ever be that simple after all the difficulties we have previously faced. I never believed we would be lucky enough, but whilst writing Dare to Dream this little miracle happened.
'I want to give others hope that amazing things can happen 🌟', the mum-of-one wrote on Instagram.
Fans rushed to congratulate the couple on their wonderful news, and also commented on how cute their announcement was.
'Congrats 😍 Lola will be an amazing and cute big sis ❤️', one fan wrote.
'YAAAAAAAY SO HAPPY FOR TGE JUDD'S lots of love for u, Izzy, Lola and the little bump ❤', another fan commented on the singer's post.
Harry and Izzy welcomed Lola in January last year, with the star announcing the news with a very sweet message on Twitter, praising his wife.
'Lola Rose Emma Judd entered the world at 8:43pm 25/1/16. Both Mummy and Lola are doing very well. Izzy is my hero and I love my girls 💕'
The couple, who tied the knot in 2012, conceived through IVF after suffering a miscarriage (opens in new tab), but have been very open about their fertility struggles.
'In an ideal world when you're ready to start a family you hope you will conceive in the first few months of trying', Harry told HELLO! magazine.
'We were like, no, no we won't need IVF, it won't be us. IVF was like something you didn't talk about. We thought it would be fine.'
Congratulations to this lovely couple!