'It's a very, very lonely, tough time' Harry Judd's pregnant wife Izzy opens up about IVF battle
Izzy and Harry have amazingly been able to conceive naturally with their second baby.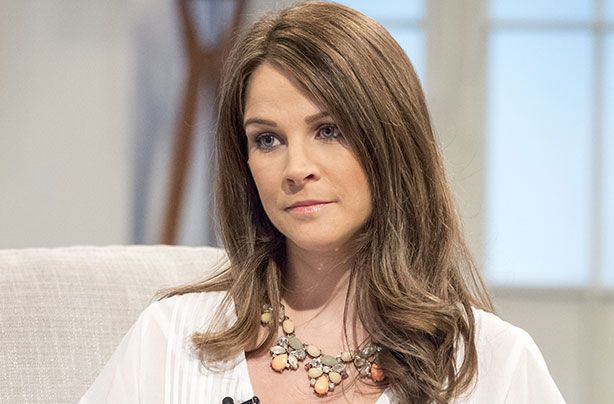 Izzy Judd has opened up about the IVF battle she and husband Harry faced to welcome their first daughter into the world, admitting it was a 'very lonely, tough time'.
Izzy, who is currently expecting her second baby (opens in new tab), has spoken out about her IVF struggles when trying to conceive daughter Lola, after recently releasing a book detailing her thoughts at the time, Dare to Dream.
The mum appeared on Lorraine Kelly's chat show to talk about the strain that going through IVF can put on a couple, but how much Harry supported her throughout the process.
Izzy pictured recently on Lorraine
'I felt that it was important that Harry wrote a chapter in the book because it's very much teamwork, it's both you and your partner that are going through this and often the men can be slightly overlooked.
'I'm very lucky, Harry is very sensitive and we were able to communicate to each other, which I think was so important.'
The 33-year-old mum continued to explain that it never occurred to her or Harry that they would have problems conceiving (opens in new tab) naturally, and once they did it was a 'lonely' time.
'We thought we would get pregnant after we got married and it didn't work out that way.
'What followed were very, very lonely months. When I was going through it, I found it very, very difficult to talk to anybody, and I think it's really important to find somebody outside of it - not necessarily just your partner - but somebody you can talk to.
'I think when you carry it all yourself it's a very, very lonely, tough time, and however hard it is to speak out about it, I do think when you carry it on your shoulders all by yourself it's even harder.'
Harry and Izzy on This Morning
The musician, whose string quartet appeared in the final of the 2005 series of Britain's Got Talent, explained that she tried to view IVF in a positive light and kept up a healthy lifestyle to support her treatment.
'I tried acupuncture, more gentle exercises, nutrition. I looked at the whole thing, and I looked at IVF from a very different perspective.
'I think people see IVF as three letters that are incredibly frightening, and full of injections, and actually there is something truly magical about IVF if you can switch your mind to think of it slightly differently.'
This isn't the first time Izzy has spoken about her IVF journey, having previously been praised for sharing a post with her 187,000 followers on Instagram, telling them to 'Always believe amazing things will happen'.
'Two years ago today.... on the 29th April our little embryo was put back home and I've carried her every day since,' she wrote.
'To anyone going through IVF or about to go through their transfer, never stop believing that your miracle is waiting for you. The beauty of being lucky enough to see Lola as an embryo, watching her being put back home and seeing the light flashing across the screen as she was released is the closest to magic I've ever been.'
Izzy admitted that the process wasn't the way that she and Harry has imagined conceiving a child together, but added that it was 'every bit as romantic'.
She concluded the post with the hashtag #DaretoDream, the title of the book she has penned about her 'struggle to become a mum'.
Fans praised Izzy for her honesty about such a difficult subject, with many saying that they'd gone through similar experiences themselves.
'We are lucky enough to have three little miracles conceived through IVF, two of which are twins!' one commenter said. 'I have to pinch myself every day as I never thought we would be blessed with one let alone three! Dreams do come true, keep believing! #wishuponastar'
'We found out this week that conceiving without some form of medical intervention will be difficult,' another revealed. 'While we are a while away from IVF this has bought me hope that no matter what, one day I will hold my baby.'
Izzy and Harry added Lola to their family in January 2016, with the musician telling HELLO! magazine that her birth was the 'best thing ever'.
'Everything we went through was worth it because it has brought us to this moment,' he told the mag. 'IVF is just mind- blowing and such an amazing thing to give us this family.
'It's such a relief when you hear her cry and know she's okay,' Izzy agreed at the time. 'We first saw Lola as an embryo on a screen. All babies are miracles, but she fought the race.'
In April 2017, the couple confirmed that they had conceived a second child naturally.
'I wondered how it would ever be that simple after all the difficulties we have previously faced. I never believed we would be lucky enough, but whilst writing Dare to Dream this little miracle happened,' Izzy explained alongside her pregnancy announcement picture. 'I want to give others hope that amazing things can happen 🌟'.
Trusted, informative, and empathetic – GoodTo is the ultimate online destination for mums. Established in 2007, our 15-year-strong archive of content includes more than 18,000 articles, 1,500 how-to videos, and 7,000 recipes.