We earn a commission for products purchased through some links in this article.
Image: Instagram/HeatherMcManamy
Heather McManamy from Wisconsin has stage four breast cancer that has spread to her bones and liver – but she's not going to let that stop her being there for her daughter for the rest of her life.
The 35 year old, who is mum to Brianna, 4, has written a series of letters for every possible milestone imaginable, from losing her first tooth to having her first baby, to ensure that Bri always has the support of her mother even when she's not physically present.
Image: Instagram/HeatherMcManamy
'A lifetime's worth of birthday, congratulations, encouragement, graduation, wedding, first lost tooth, first car, baby, first house, first everything cards for Bri. Done. Here's to hoping I get to hand-deliver a few.'
In an interview with American news channel ABC, Heather explained: 'I did them from when she's older or younger — random encouragement, bad day, wedding, driver license, even first breakup.' Doctors have told her that it's unlikely she'll be around to see Brianna start school, but Heather hopes to be around to give the card for the next big event in person.
'They're like this physical representation of 'this is all of the stuff I'm going to miss,' Heather explained to ABC News. 'I'm going to miss everything and I never like missing anything. I'm always the last one to leave the party.'
In another TV interview, she continued: 'It was difficult once I was done, just looking at this pile that's a physical representation of everything I'm going to miss.'
'I want her to always know that I did everything I could possibly do to be here.'
'My husband [Jeff] and I have been together for 13 years and we have a really special relationship. I see Bri's awesomeness as a personification of our love. She grew up with mommy having cancer as normal, but she's so happy and hilarious. That kid loves to dance and shake her butt. She's a special, empathetic kid and she really cares for other people.'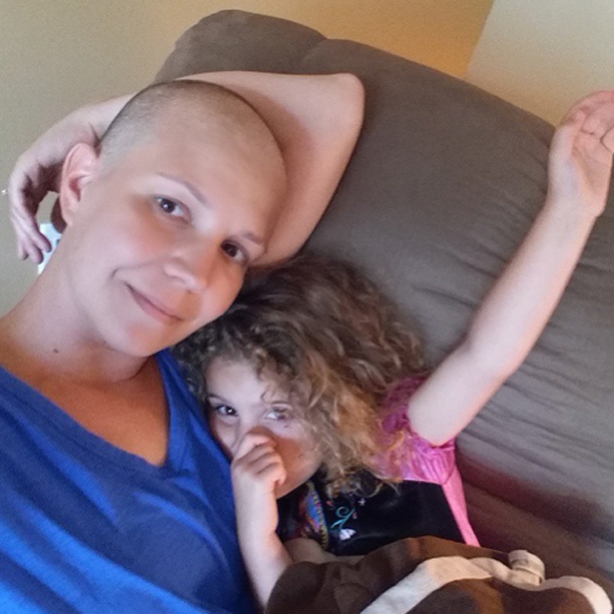 Image: Instagram/HeatherMcManamy
She's written so many words for her on paper, but what's the one most important bit of advice Heather wants Bri to take away?
'I don't care what she does in her life. I just want her to find her happiness. Life is short. If she's true to herself, everything will be OK,' she says.
Words to live by – Brianna is lucky to have a mum as awesome as you, Heather.
Heather and her family have set up a GoFundMe page to raise money for Brianna to make as many memories with her mum as possible in the short time they have left. If you'd like to donate, visit www.gofundme.com/dtrdac