We earn a commission for products purchased through some links in this article.
Ever thought Kevin's parents in Home Alone were a bit neglecting? Well, if this new video starring Macaulay Culkin is anything to go by, he's still not over it…
We can't help but wonder what kind of parent forgets about their child, not once but TWICE, everytime we re-watch Home Alone.
As much as parents sometimes need a break from their children, forgetting about them completely seems a bit exaggerated, especially during Christmas.
We all know how bad it was for poor Kevin, the adorable little boy in Home Alone 1 and 2, who had to fend for himself while two criminals tried to rob his house. But did you think he would go through the trauma of being abandoned twice by his entire family without being left with emotional scars?
The cute eight year old had to defend his house from two dangerous criminals, in the film from 1990
Actor Macaulay Culkin has revisited his character 25 years after the film came out, in a hilarious series of videos that spoof the character that marked his career as a child actor.
Although he does not explicitly say he's acting as Kevin McCallister, it's clear that he's parodying his role in the hit 1990 film when he starts ranting about the traumatic situation of being left alone at home as an eight year old.
In the video entitled 'Just Me In The House By Myself', Macaulay is a driver working for a fictional car service, and starts ranting after a client sees him reject calls from his mum.
'How about this, it's Christmas time. It's f***ing Christmas and your whole family goes on vacation and they forget their eight-year-old f***ing son', Macaulay says in the video.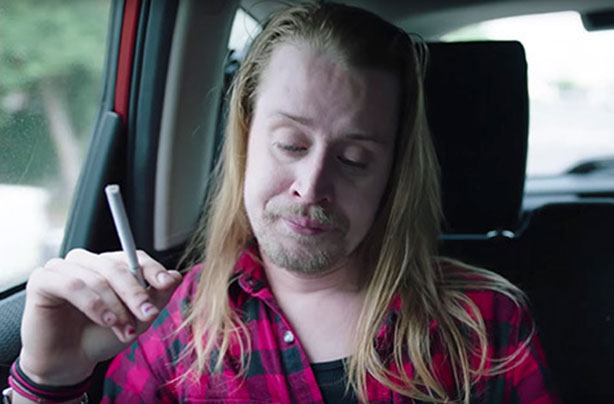 Kevin is still not over what happened 25 years ago
'I had to fend off my house from two psychopath home invaders. I was just a kid, I still have nightmares about this bald weirdo dude chasing me around.'
Clearly still very angry about being left behind by his family 25 years ago, he continues: 'They remembered my bastard of a brother, but forget me, the cutest f***ing eight year old in the universe.'
Kevin's mum tries very hard in the film to get back home to her son, so he should probably pick up her calls. We do understand his rant – we'd say it's overdue in fact – but it's been 25 years Kevin. Time to get over it.
The funny web series sees actor Macaulay Culkinrare, who's now the frontman of comedy rock band The Pizza Underground, make a welcome return to acting.