Horoscope baby names: What star sign will your baby have?
Whether you're looking for a boy's name or a girl's name, find one based on what star sign your little one will be...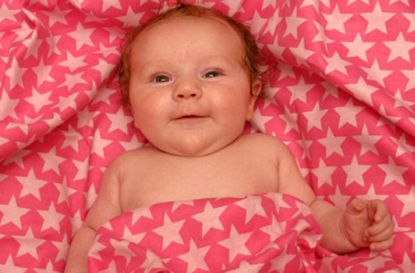 We love baby names (opens in new tab) here at goodtoknow and we also love horoscopes so we've put them together! Find a baby name based on the star sign your little one is expected to be. We've matched up each sign with a list of names with similar meanings. So if the star sign describes you as confident, we've got boys and girls names that mean confidence. But you might want to wait until Mercury in retrograde (opens in new tab) is over. We've also listed some of the celebrities for each star sign to give you even more inspiration.
What star sign will your baby be?
Aquarius (21 Jan - 19 Feb)
Aquarians are very generous people and are good judges of character. Once they've made an opinion about someone though they very rarely change their minds. They're cheerful and popular but have trouble trusting people.
Aquarius boys' names
Skyler - giving
John - generous
Daniel - judging
Tomeo/Thomas - cautious
Tate - cheerful
Sebastian - popular
Famous Aquarian boys Charles Dickens, Christian Dior, Phil Collins, John Travolta.
Aquarius girls' names
Blythe - cheerful
Esme - loved/popular
Larissa - cheerful
Danielle - judging
Gregoria - cautious
Karima - generous
Famous Aquarian girls Christina Ricci, Jennifer Aniston, Jane Seymour, Mia Farrow, Oprah Winfrey.
Pisces (20 Feb - 20 Mar)
Pisceans are imaginative and sensitive.They're always there for people and are selfless and sympathetic. They can be quite secretive when it comes to their own lives though. Their selflessness means they're taken advantage of easily.
Pisces boys' names
Maddock/Maddox - charitable
Kody/Cody - helpful
Addy - imaginative
Darrel/Darryl/Daryl - sympathetic
Rune - secretive
Drew - wise
Famous Piscean boys Daniel Craig, Michael Caine, George Harrison, Kurt Russell.
Pisces girls' names
Athena - wise
Fiona - open/fair
Adelaide - sympathetic
Saisha/Sasha - imaginative
Jane - sensitive
Adiva - considerate
Famous Piscean girls Coleen Nolan, Drew Barrymore, Elizabeth Taylor, Eva Longoria.
Aries (21 Mar - 20 Apr)
Arians are good leaders. They're adventurous, energetic, pioneering, and courageous. They tend to be honest and open but also selfish and rebellious.
Aries boys' names
Farren - adventurous
Riley - courageous
Valora - courageous
Frank - frank
Seth - stubborn
Constantine - leader
Famous Arian boys Sir Elton John, Ewan McGregor, Russell Crowe, Eddie Murphy.
Aries girls' names
April - open
Amina - honest
Ida - energetic
Bernadette - courageous
Millicent - pioneering
Ronni - willful
Famous Arian girls Victoria Beckham, Sarah Jessica Parker, Emma Thompson, Kate Hudson.
Taurus (21 Apr - 21 May)
Taureans are patient, reliable, warmhearted, loving, persistent and determined. However, if you insult a Taurean they'll never forget it. They're stubborn but loyal to everyone really close to them.
Taurus boys' names
Gareth - warmhearted
Pitney - stubborn
Ernest - determined
Darby - loving
Justin - reliable
Dillon - loyal
Famous Taurean boys George Clooney, David Beckham, Bono, Daniel Day-Lewis.
Taurus girls' names
Marcella - Dedicated
Michaela - fiery
Nidia - patient
Adelinde - tender
Dalia - warmhearted
Adiva - warmhearted
Famous Taurean girls Cate Blanchett, Audrey Hepburn, Uma Thurman, Renee Zellwegger.
Gemini (22 May - 20 Jun)
Geminis are good communicators. They're active and clever and can adapt to lots of situations.They can be quite pessimistic sometimes and also like to stay independent.
Gemini boys' names
Casey - active
Carlton - free
Charles - free
Franklin - independent
Maverick - independent
Wylie - clever
Famous Gemini boys Johnny Depp, Clint Eastwood, Paul McCartney, Kanye West.
Gemini girls' names
Alanza - adaptable
Monisha - intelligent
Delilah - pessimistic
Evangelina - smart
Fortune - clever
Samara - communicator
Famous Gemini girls Angelina Jolie, Kylie Minogue, Elizabeth Hurley, Marilyn Monroe.
Cancer (21 Jun - 22 Jul)
Cancerians are protective, traditional, and emotional. Cancer is probably the most emotional of all the signs. This makes them romantic and shy. They can be joyful and sensitive but can take everything very personally.
Cancer boys' names
Coyan - shy
Thomas - traditional
Cato - knowing
James - firm/traditional
Winston - joyful
Christian - emotional
Famous Cancerian boys Tom Cruise, Prince William, George Michael, Tobey Maguire.
Cancer girls' names
Angela - emotional
Leala - faithful
Carmen - romantic
Lana - shy
Sibyl - devoted
Shalini - modest
Famous Cancerian girls Princess Diana, Fern Britton, Carly Simon, Cyndi Lauper.
Leo (23 Jul - 22 Aug)
Leos are like lions: energetic, free, and independent. They like to get things done and are excellent leaders because of their confidence. They are very loyal to other people, even to their enemies but they can be attention-seeking and loud, sometimes to the annoyance of everyone around them!
Leo boys' names
Mark - loyal
Martin - Loyal
Dermot - free
Charlton - free
Ferdinand - confident
Leo
Famous Leo boys Darius Danesh, Robert De Niro, Jamie Cullum, Matt Le Blanc.
Leo girls names
Sharlene - independent
Vivian - confident
Alvita - confident
Bliss - intense
Marcia - loyal
Famous Leo boys Madonna, Jennifer Lopez, Danielle Steele, Whitney Houston.
Virgo (23 Aug - 22 Sep)
Virgos need a lot of attention, adoration and thanks and are highly intelligent. They get defensive and will attack back when confronted but will also defend friends and family. They're never wasteful and are always accurate, competent and effective. They like order.
Virgo boys' names
Tychon - accurate
Gabriel - competent
Albert - intelligent
Cassidy - intelligent
Renfrew - order
Raymond - protecting
Famous Virgo boys Andrew Lincoln, Adam Sandler, Chris Fountain, Guy Ritchie.
Virgo girls' names
Jerica/Jessica - Intelligent
Lauda - praise
Sana - praise
Ramona - protective
Patience - loyal
Samara - protective
Famous virgo girls Chrissie Hynde, Julia Sawalha, Claudia Schiffer, Raquel Welch.
Libra (23 Sep - 22 Oct)
Librans are very sociable and love being around people. They're trustworthy and devoted but they can be ultra possessive with close friends.
Libra boys' names
Phil - devoted
Rami - devoted
Casper - sociable
Sonny - sociable
Malcolm - trustworthy
Penn - trustworthy
Famous Libran boys Cliff Richard, Gary Kemp, Steve Coogan, Simon Gregson (Steve McDonald from Corrie).
Libra girls' names
Amabel - sociable
Amilia - sociable
Dilys - trustworthy
Agatha - trustworthy
Sibyl - devoted
Lemuela - devoted
Famous Libran girls Jade Jagger, Suzanne Shaw, Toni Braxton, Sarah Ferguson.
Scorpio (23 Oct - 22 Nov)
Scorpios can be complicated people. They're clever, intuitive and loyal. They're also passionate and caring. They can be very jealous and ruthless when they want something.
Scorpio boys' names
Todd - clever
Cassidy - clever
Apollo - intuitive
Dillon - loyal
Cain - jealous
Niles - passionate
Famous Scorpion boys Leonardo DiCaprio, Bill Gates, Martin Luther King, Charles Manson.
Scorpio girls' names
Cleo - passionate
Amana - loyal
Morgan - jealous
Azelia - jelous
Cherish - caring
Almeda - passionate
Famous Scorpion girls Whoopi Goldberg, Demi Moore, Adele Silva, Lulu.
Sagittarius (23 Nov - 21 Dec)
Sagittarians are energetic, they love to travel and be close to nature. They're optimistic and honest and love their freedom. They're also curious by nature and can be rebellious.
Sagittarius boys' names
Emmett - energetic
Timothy - energetic
Yves - honest
Amin - honest
Rory - Rebellious
Famous Sagittarian boys Brad Pitt, Frank Sinatra, Mark Twain, Winston Churchill.
Sagittarius girls' names
Amina - honest
Charley - honest
Serafina - energetic
Liberty - freedom
Arabel - rebellious
Karis - curious
Famous Sagittarian girls ane Austen, Tina Turner, Danielle Lloyd, Milla Jovovich.
Capricorn (22 Dec - 20 Jan)
Capricorns are careful, slow, practical and love saving money. They're really faithful to their family and friends and they're also kind and affectionate. Capricorns can be perfectionists and really shy and this can lead to problems in relationships.
Capricorn boys' names
Benedict - practical
Melesio - careful
Fidel - faithful
Elijah - faithful
Tomeo - kind
Christian - affectionate
Famous Capricorn boys Benjamin Franklin, Cary Grant, David Bowie, Elvis Presley, Issac Newton.
Capricorn girls' names
Aida - practical
Penelope - kind
Carmel - kind
Amina - faithful
Leala - faithful
Angela - affectionate
Famous Capricorn girls Joan of Arc, Abigail Clancy, Carla Bruni, Jayne Middlemiss.
Trusted, informative, and empathetic – GoodTo is the ultimate online destination for mums. Established in 2007, our 15-year-strong archive of content includes more than 18,000 articles, 1,500 how-to videos, and 7,000 recipes.