A big sign doesn't fall from the sky saying 'BAD MUM ALERT'! How I chose myself over mum guilt
'If it means you buy THAT handbag, release your inner trollop, and start putting outfit pictures on Instagram then so be it'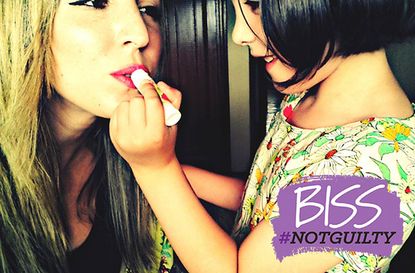 Kim from If The Baby Allows won our BISS November competition and in her guest blog reveals why she decided it was high time to let go of mum guilt and start being her again...
Red leather, embossed, cross body, delightfully amazing, SS17 handbag. As I sat staring at the wonderful specimen on the screen in front of me, I wondered how I ever managed to get dressed in the morning without being able to adorn myself with that beauty.
I decide it would look great with the outfit I put together for my night out with the girls. It's also very Instaworthy - think of all the hashtags with that one! High five to me!
Quite happy with my decision, I approached the checkout button thinking 'this time I've nailed it', however a sudden wave of anxiety came over me, a familiar feeling that most mums come into contact with regularly – the big MG - mum guilt.
There are different levels to mum guilt. For some it might be the guilt of being a working mum. For others, it's guilt from self-indulgence and that's just the lowest of the low on the guilt spectrum isn't it? Guilt created not from necessity, but from the fulfilment of selfish desires.
A downward spiral of thoughts commenced. 'Imagine what could've been done with the money you spent on clothes? And the time you spent getting dressed up and gabbing with friends? Or blogging? It's precious time stolen from your babies. Plus, who exactly do you think you are prancing around in that get up? Trollop. You're a mum, your life's purpose is to mother and that doesn't need to be fulfilled donning a Gucci loafer.'
I can hear the earth mothers gasping at such frivolity, unable to comprehend this, as crocs do just fine.
This then lead me to recall my past guilt-ridden moments in sudden and rather alarming flashbacks. Drip feeding dolly mixtures to keep the kids quiet whilst I get my shopping fix, the extra half hour in front of Cbeebies so that I could perfect my blow dry, cutting the park visit short because there's an ASOS order being delivered in the next hour.
So, if this is self-inflicted then why not just stop? Give it up and embrace the inner mumsy guilt-free lifestyle. After the traumas of TTC, pregnancy, birth and new motherhood, the desire to feel normal again is huge. Plus, there's the added pressure to bounce back and be a 'yummy mummy' (cringe).
My conclusion? It's all about balance and finding your normal. If it means you buy THAT handbag, release your inner trollop, and start putting outfit pictures on Instagram (how juvenile of you) then so be it. I've come to the realisation that if you put some credit into the me machine, a big flashing neon sign doesn't fall from the sky saying 'BAD MUM ALERT' and actually in the grand scheme of things, no one cares.
Quite happy with this conclusion, the laptop was reopened and the 'no need to be justified' justified bag purchase was about to be made, ready to top up the feel-good factor. However, something as equally horrifying as MG pops up on the screen. SOLD OUT. #GUTTED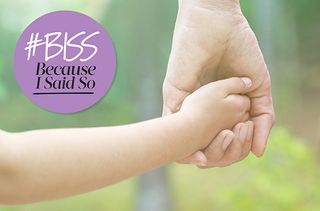 Kim was selected as a BISS guest blogger after entering our November linky. For your chance to write for GoodtoKnow, check out our Because I Said So platform.
Parenting advice, hot topics, best buys and family finance tips delivered straight to your inbox.
Trusted, informative, and empathetic – GoodTo is the ultimate online destination for mums. Established in 2007, our 15-year-strong archive of content includes more than 18,000 articles, 1,500 how-to videos, and 7,000 recipes.