How we test and review products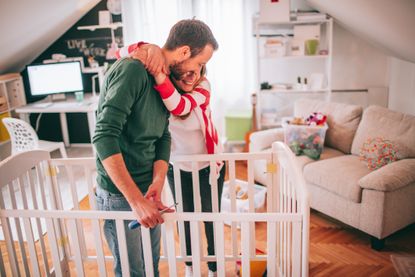 (Image credit: Future)
To help you decide on the best product to suit your needs, budget and lifestyle, this is how we test products marked as reviewed in our buying guides, gift guides and product roundups.
The testing process
To create consistency across our product reviews and ensure you can trust our buying advice, we use a rigorous and considered testing process. Our testing methodology is simple, robust, and reliable.
Our buying guides are produced in accordance with our content schedule. This is how we decide which product category to base a buyers' guide on. Using insight and analysis supplied by our Audience Development Team, we have created a list of core baby products that we know readers seek advice and guidance on. From breastfeeding bras and baby carriers to prams and travel cots, our buying guides focus on the essential baby products that most new parents need. We won't produce a buyers' guide just because a brand or retailer asks us to, or because we'd like to try the products out ourselves. The focus of our buying guides is driven by our audience. Our goal is to help readers find the best products to suit their budget as well as their lifestyle, and to answer all the questions they have before they buy.
Once we've decided on the product category for the next buying guide, our Consumer Editor Heidi Scrimgeour shortlists the products for possible inclusion, based on her product knowledge and industry research. A parenting journalist for 15 years, Heidi has written for everyone from Mother & Baby to Made for Mums and has three children aged between 8 and 17 years old so her knowledge of parenting products is unmatched. She looks at the latest offerings from popular and market-leading brands across a range of price points and selects the items worth reviewing.
We use a pool of experienced reviewers to thoroughly test everything we recommend. We match the tester to the product based on the age of their baby so that they can fully test the product's features and functionality with a child of the relevant age.
The majority of our testers are parents and professional journalists with experience in writing product reviews for national newspapers and consumer magazines. Occasionally we'll choose a 'real mum' rather than a journalist - usually because she has a lifestyle need that makes her an especially good candidate to review a particular product.
Sometimes, such as with our breastfeeding bras buying guide, we assign several products to one tester so that they can compare multiple items like-for-like. Other times, such as with our car seats buying guide, we assign one item per tester so that they can provide in-depth details in their review and feedback.
The review process
We ask our testers to submit their reviews via a standardised form. This ensures they apply the same criteria to the testing process and comment on the same core features as other testers for fairness. They rigorously test the product with a baby of the relevant age for at least ten days (in a variety of weather conditions and on different types of terrain where necessary) to give an all-around picture of what the item is like to use beyond the manufacturer's claims.
Note that we are not lab-testing products or submitting them to a crash-test-style testing process. We are conducting honest, independent consumer reviews designed with one goal in mind: to provide readers with original information about what the product is really like to use in day-to-day life. A manufacturer may state that a pram is suitable from birth, for example, whereas a tester might find that their newborn feels 'lost' in the enormous carrycot. First-person feedback like this helps the reader decide whether this particular product is the best choice for their needs and lifestyle.
Our testers also fact-check claims for truth and accuracy, since manufacturers often make bold claims. If a pram is billed as being easy to fold with one hand, our testers put this to the test by attempting to fold it whilst holding their baby.
Our testers also give each product a 'star rating' out of five for overall performance.
***** Product is practically flawless - a game-changing item that you'll wonder how you ever lived without.
**** Product exceeds expectations - not perfect but very highly recommended and well worth buying.
*** Product does not live up to all its promises - suitable for occasional use if you can overlook its specific imperfections.
** Product is disappointing - not advisable for use.
* Product is not recommended - tester found it dangerous, overly difficult to use or not fit for purpose.
It's rare for us to give a product rating of 1 or 2 since our Consumer Editor has selected the products for inclusion on the basis that they're desirable products from reputable brands. As such, we expect them to fare well during testing. If a parent tester scores a product below 3 overall, we'll give the brand the opportunity to rectify the issue in the event that the product might be defective or unsuitable for inclusion.
Testers also provide comprehensive feedback on key factors relevant to the product category such as design appeal, manoeuvrability, functionality, portability, and value for money.
When reviewing prams, for example, we consider helpful in-depth details such as:
Design—prams come in all shapes and sizes so we assessed them on how stylish they look, as well as how compact (or not) they are, since you may need to store a pram in a narrow hallway or fit it in a small car boot. We also took into account design details like whether the shopping basket is big enough to fit the day's groceries as well as your changing bag. Bonus if there's a cup holder and somewhere to stash your phone and keys.
Ease of use—is folding and unfolding this pram intuitive, or do you need to read the instructions to figure things out? Could you collapse it in the rain at the bus stop with your baby in your arms or is that out of the question?
Special features—is the seat unit reversible so that you can choose which way your child faces? Can you recline the seat easily if your baby nods off in the pram? Are the wheels lockable for tackling different terrain and is the basket easy to access, even when the seat is fully reclined?
Price—is the pram affordable or expensive? Is it worth the money? Or could you get a similarly good experience with a less pricey pram?
Real mum reviews—in addition to our Consumer Editor's expert views on the best prams, we assembled a panel of parent testers to put each one through its paces. list
The results process
Once our reviewers have completed a checklist of tests to perform and provided feedback via our review template, the writer analyses the results to determine the best product overall, as well as the best premium buy and the best budget buy. The testers are asked whether the product they have reviewed is worthy of our best buy categories (best buy overall, best premium buy and best budget buy). In the event that two or more products are identified as best buy contenders, the writer will make the final selection in discussion with the Consumer Editor. An item cannot be listed as a best buy if the tester has not identified it as such.
The remaining products are then assigned a secondary 'best for' category based on the tester's feedback, such as best for travel use or best for longevity.
Every item tested is featured in a further in-depth product review, as well as appearing in the buying guide. The review allows for more of the tester's feedback to be disclosed and a greater level of detail to be entered into.
Finally, the buying guide and product reviews are fact-checked by our Consumer Editor who sub-edits them before publication.
Parenting advice, hot topics, best buys and family finance tips delivered straight to your inbox.