We earn a commission for products purchased through some links in this article.
Hugh Grant has become a dad for the fourth time after his Swedish TV producer girlfriend gave birth to a baby girl.
In a week with lots of exciting celebrity baby news, the Notting Hill actor has reportedly welcomed another member of the family. Hugh already has three children by two different women.
Anna Aberstein, 37, who gave birth in Sweden last Wednesday and was first reported pregnant in October, is already mother to Hugh's three-year-old son John Mungo Grant.
Whilst this will be 55-year-old Hugh's second child with Anna, the new arrival adds to the two children the Love Actually star has with former partner Tinglan Hong, 32.
Anna Aberstein, pictured with Hugh at the Swedish Open in July 2014
Tinglan, an ex-receptionist at a Chinese takeaway restaurant in London, gave birth to Hugh's daughter Tabitha, born in 2011, and his son Felix, who was born in 2012.
Hugh, who is currently campaigning on the phone-hacking scandal, said that his daughter's Chinese name is Xiao Xi which means 'happy surprise'.
When Tinglan gave birth to Felix, Hugh wrote on his personal Twitter page; 'In answer to some journos. Am thrilled my daughter now has a brother. Adore them both to an uncool degree. They have a fab mum.'
Speaking to Ellen De Generes about becoming a dad, the star said; 'Now that I have a child, it is life changing. I recommend. Get some.'
The latest addition means that the Oxford University graduate will have gone from having no children in 2010 to having four children by the end of 2015.
Ms Eberstein's mother said to a Swedish newspaper; 'It's wonderful, we now have grandchildren.'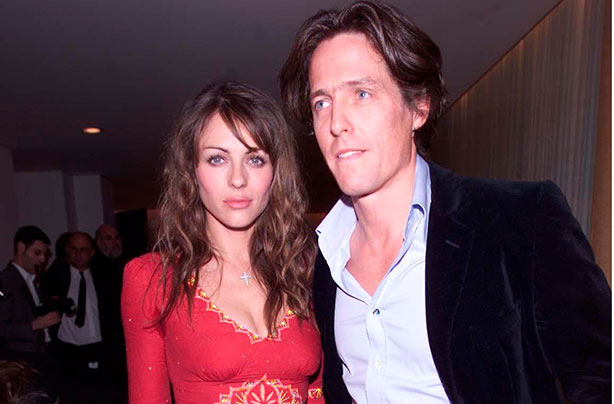 Hugh with his former flame Liz Hurley
Hugh's former long-term girlfriend Liz Hurley, who he dated between 1987 and 2000, spoke about her surprise at Hugh's move into fatherhood.
The British actress and model said; 'Because he was over 50 when he had all of them, so yeah it is surprising. But he is a good daddy, very good.'
Hugh has also dated socialite Jemima Khan.