EastEnders star James Bye welcomes his second child
He already has a son, Edward, with wife Victoria.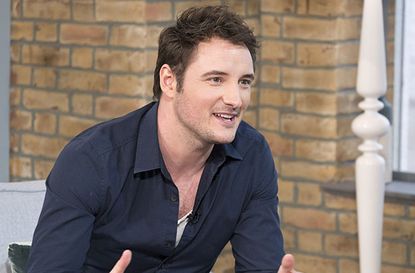 EastEnders star James Bye has welcomed his second child.
The 31-year-old actor and his wife Victoria announced the arrival of their second son Louis George to OK! magazine (opens in new tab), 10 days after his due date. The little one was born at 6.50pm on 9th March, weighing 8lb 15oz.
James had previously shared details of the natural birth he and his wife are planning with the mag, and from the sounds of it, things went very much according to plan.
The actor had said that he would be joining wife Victoria in the birthing pool, much to her and his mum's surprise.
'I'm planning to get into the pool. I've got my trunks ready to go! My mum's a midwife and said, "Are you sure you want to get in, James?" It won't just be the baby in the water. There will be other things floating about', he said in an earlier interview - and he confirmed after Louis' arrival that he 'got his trunks on and got in too.'
'I put my hand down and held his head. It was the most amazing feeling on earth, he added. 'I can't put into words what it felt like to do it, to pull him into this world.'
'It makes you stronger as a couple to share these experiences and go through them together,' wife Victoria said. 'Part of me did wonder whether it would faze James to see me in all my glory through labour - the scarier, gorier parts particularly. But he wanted to be there and to be a part of it.'
The dad-of-two confessed that he, unlike most men, isn't fazed by the birthing experience.
'People say it freaks them out to see women give birth but it's completely natural', he explained.
James, who plays Albert Square market trader Martin Fowler in the BBC One soap, already has a two-year-old son, Edward Jude.
'Edward's just fallen in love with him,' Victoria gushed. 'When Louis cries, Edward runs up to him and says "Shhh, it's okay." When I arrive to pick Edward "Mummy".'
The couple had already admitted that they have plans for a large family and will keep going 'until we get a whole football team!'
The actor's latest on-screen storyline, with fellow actress Lacey Turner, has focused on postpartum psychosis (opens in new tab) and the effects following the birth of his and Stacey's newborn son Arthur.
James said; 'Working with a newborn baby on the EastEnders set has got me excited for our own baby's arrival, too. As Edward's two I'd forgotten how small newborns are!'
The couple, who live in Hertfordshire, have been married since April 2012.
The photo James and Victoria posted to announce their first pregnancy two years ago
A recent addition to the EastEnders cast – James only joined 15 months ago - he has also starred in Hollywood films such as Redemption and Ricky Gervais' film Cemetery Junction.
The actor didn't even think he had secured the BBC role after his audition, saying; 'I was convinced I hadn't got the role, so we went ahead with the building works and had the back wall knocked off the house. The next day I got the call!'
Read James' full interview in this week's issue of OK! magazine