We earn a commission for products purchased through some links in this article.
Jenni Falconer's day starts at 2:30am. We'll repeat that: 2:30am.
She's a breakfast radio show host, a daytime TV presenter, fitness enthuisiast, beauty-addict, and on top of all that, a mum to three-year-old Ella, wife to television actor James, and proud owner of Alfie (the dog). 
So who on earth does someone so busy turn to when she needs family advice? As she says, 'You can read every book under the sun but nothing can ever prepare you for what motherhood brings.' We hear you Jenni, we hear you.
Her latest partnership, which has been with SMA Nutrition and a whole host of mummy bloggers on their new B.A.B.Y project, has all been about one thing; to arm new mums with the best advice they'll ever need – all courtesy of other mums.
Jenni's a regular face on This Morning as well as presenting for Heart Radio.
goodtoknow: As a new mum you'll know all about the sleepless nights and feeds in the middle of the night! How did you cope with them?
Jenni: They're a bit of a shock to the system at first! But towards the end of pregnancy you're having quite restless nights anyway so it's not so bad when you have a baby to get up and tend to as opposed to just lying there having an uncomortable night.
I was very lucky as my husband was absolutely brilliant. We both work freelance which meant we could tag-team feeds. He'd do the late ones and I wouldn't have to do anything until 4am.
That was our little plan, it wasn't strict to time but that was roughly how it worked. I wasn't really ever tired – which was brilliant – and that helped me stay sane I think. Some of my friends from NCT had babies that just did not sleep.
'Becoming a mum is life-changing, but it's also life-enhancing.'
Although I do remember going into This Morning when Ella was about seven months old and teething; she hadn't slept for two days, and I sat in the make-up chair and couldn't even open my eyes. They let me shut them while they put make-up on me – I was so tired! That was only after two days [lack of sleep], I don't know how mums who continuously deal with that cope. I'm in complete awe of them.
Ella's 3 now! What's she like?
Oh she's truly lovely! Friends always told me your children get more fun as they reach each birthday. I found it hard to believe that my little girl who I adore more than anything else could get even cuter or funnier but with every day that passes, she becomes more engaging, more enthused by such amusing things – Disney Princesses being one of them – and makes hilarious observations. From a parents' point of view, being told 'I love you to the moon and back and then to the sun and back and then round the house three times' melts your heart.
She has her terrible moments but on the whole she's just gorgeous. She's very headstrong and she knows what she wants. James has been teaching her how to act so she's learning all about how to cry, do happy/sad faces – so she's using that to manipulate me quite well. She's really very clever and she's got a definite character.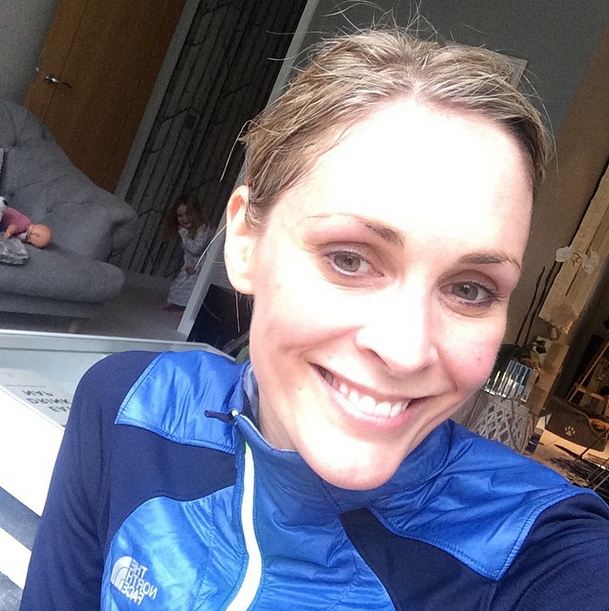 Peek-a-boo! Can you spot Jenni's cheeky three-year-old in the background?
Image: Instagram/jennifalconer
What do you think she'll grow up to be?
She's showing signs of being a nurse or doctor as she is so caring and attentive if you're unwell, walking around with her little medical kit calling herself Dr. Ella. Maybe someone in the legal profession, because she's definitely nailed the art of negotiation. Or perhaps a move into the acting world like her daddy, as she can be quite dramatic!
You're currently helping SMA Nutrition's campaign to provide new mums with helpful advice from other mums. What made you want to get involved?
All the way up until the birth [of Ella] I bought loads of books and I didn't really relate to the person that wrote it, I don't know them, I'm not talking to them, they're not putting it in a language which really flows like in a conversation.
When I was pregnant Holly Willoughby came into This Morning just after having Belle and I just asked her so many questions – I was so nervous! She gave me loads of answers. I'd always phone my sister-in-law – she'd had my niece and nephew – and I'd ask for advice about anything.
'My three year old has definitely nailed the art of negotiation!'
It's funny because when you have your own baby you realise that as brilliant as all their advice is, you still have your own way of doing things. So you don't necessarily do what they say but it's good to know they've gone through the same. That's why I wanted to get involved. Every mum should know from people like 'us' [other mums]. Books are brilliant but sometimes you just want something more personal.
To the untrained eye we'd think you're always your glamorous, on-screen self! Are there PJ days in your house, or are you always glam?
Oh my goodness no! Right now, I've come from doing This Morning and I've been playing tennis in the kitchen in a dress and false eyelashes. I'm desperate to go and get changed. Ella's like 'No mummy, play with me!' I'll be going and changing immediately after this into a tracksuit. If I'm not working, I tend to live in sportswear with my hair scraped back – in the hope that I might get time to do some exercise. That's basically my life. When you're on your own time, you don't need to make an effort do you?
Jenni married her actor husband James at Babington House in Somerset in 2010.
Image: Instagram/jennifalconer
As a mum, what's the best piece of advice you've been given?
There are so many brilliant pieces of advice that people have given me. My sister-in-law gave me lots about actual childbirth – which I won't go into! And my mum's always told me not to worry, for instance with learning; children learn things at different rates. Ella might be really advanced at one thing but she might not be as advanced in others.
I think when you've got a baby, you become quite competitive with other mums. Your baby might sit up before the others, but they might be walking before yours. My baby might crawl really well but might not walk for ages. Every child does things at their own pace and I think that's something that mums have to relax about.
'Mums can be quite competitive… Children learn things at their own pace and that's something I think we have to relax about!'
What's the most difficult thing about being a first-time mum?
I think it's a shock to the system. Be as prepared as you want but you're never prepared enough! There's no way you can prepare for what's in store. You can hang out with babies, you can learn to change a nappy, you can even go to lessons and read every book under the sun but until you've gone through it you just don't know. It's life changing, but it's also life enhancing. While there are lots of changes, they're all fantastic.
If we opened your fridge right now, what would we find?
It looks good at the moment [she says smugly]. Ever since I've become a mum there's one thing I've always done and that's online shopping. There is absolutely no point in wasting time going to the supermarket with a three-year-old who wants to fill the trolley full of her favourite things. The stress of getting them in the trolley, then out the trolley, losing the dummy, losing the rabbit… It's not worth it! It's full of healthy things at the moment; coconut water, matcha green tea, blueberries, salad, tuna, salmon, chicken – it looks really good. But it's only going to be a matter of time before James goes to the shop and fills it with chocolate.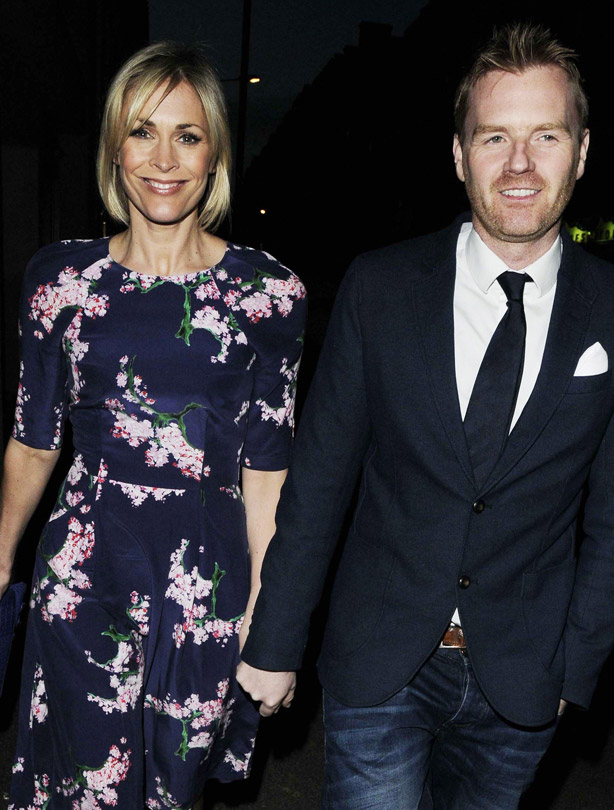 'James was absolutely brilliant when we had Ella – he'd do the night-time feeds.'
Talk us through a typical family day in your life
When [James and I] get time off together – which is often one day at the weekend – it's precious. We just do simple things. We might take Ella to the cinema, she loves getting popcorn! We might just go for a walk. We went down to Bournemouth a few weeks ago. It was a really lovely day and we took Aflie [our dog] and Ella went scootering along the promenade. Things like that I really enjoy.
Presenting breakfast radio and TV must be pretty hard-going. What's your number one trick for getting ready quickly?
I'll be honest – it's not hard at all. It works perfectly. I'm a morning person. I get up at 2:30am and I don't find it that bad. I do go to bed early though, at the same time as Ella at 7pm. Occasionally – if Ella goes to bed earlier – I might allow myself a late night which might be 8:30pm! If my husband gets home early we might have dinner together – which is very exciting you know.
'I finish work before Ella's even awake – sometimes I find myself drifting off during episodes of Peppa Pig!'
I'm on air until 6am, so when I get home Ella isn't even awake – she doesn't even know I've been to work. So the difficult part is staying awake all day while we colour in. During episodes of Peppa Pig I sometimes start to drift off..
What's the most important thing in your handbag?
My phone is everything! It's my diary, all my phone numbers – it's got my life on it. As far as Ella's concerned it's the most important thing for her too because it's got the Frozen soundtrack on – plus loads of Peppa Pig games and photos of her (which she loves looking at). So for all of us it's the number one accessory.
A pregnant Jenni covered for Holly Willoughy on This Morning when she was on maternity leave with her second child, Belle.
We recently featured you in our best blonde hairstyles gallery – got any great hair tips for us?
I wash my hair every morning which some people think is horrendous, but I look a bit like Tina Turner in 1982 if I don't wash it every day. As I like to exercise, it gets a bit sweaty so I have to wash it! I just get it cut regularly. When I had Ella my hair changed. It was really thick and amazing through pregnancy and then afterwards I had a cockerel tuft of baby hair at the top – just like a chicken – about 2 inches long. Thank goodness it's grown out now.
How do you stay looking young?
One of my neighbour's children told me I'm 'very old' and thinks I must be 'at least 12' – which I thought was brilliant. I'm obsessed with using beauty products, I'm a marketing man's dream. If it keeps me young, I'm having it! If it keeps my skin soft, I'm having it. I moisturise, moisturise, moisturise (I don't know if it helps, but psychologically I think it's keeping alligator skin at bay).
'I don't get chance to go for facials so I do them at home. Ella thinks it's hilarious.'
Do you have any swear-by beauty products?
I do believe that you should buy decent products; you might spend a lot of money on a nice outfit, but your face is something that you show to the world every single day so why would you just use soap and water? With all these amazing products out there that are meant to help you I think, let's use them. They last long enough too. I'm a big fan of Elemis, Bobbi Brown and Ole Henriksen. I don't really get chance to go for facials so I do them at home. Ella thinks it's hilarious. If she's in the bath I'll do my facial and sit with a facemask on. Spend time on looking after your skin.
What does Ella think about having a famous mum?
She doesn't have a clue. I come on television and she's like, 'oh, that's interesting…' and then she wants to watch Mickey Mouse. She's not remotely interested. She just thinks it's normal.
Jenni Falconer is working on SMA Nutrition's B.A.B.Y campaign to find the best pieces of advice for new mums. Visit SMA Nutrition's YouTube channel from the 23rd March to view the winning pieces of advice.