Jessica Cunningham reveals she's pregnant following her recent miscarriage
The star suffered a miscarriage in November last year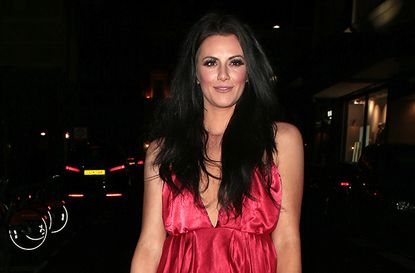 (Image credit: GC Images)
GoodTo newsletter
Sign up to the GoodTo Newsletter. You can unsubscribe at any time. For more information about how to do this, and how we hold your data, please see our privacy policy
Thank you for signing up to . You will receive a verification email shortly.
There was a problem. Please refresh the page and try again.
Jessica Cunningham has revealed she's expecting her fourth baby with boyfriend Alex Daw, following the tragic news of her miscarriage only a few months ago.
Taking to her blog, Mother of Maniacs, the Apprentice star announced that she will be having a 'little rainbow baby' this year.
She explained: 'A 'rainbow baby' is a baby that is born following a miscarriage, stillbirth, neonatal death or infant loss.
'In the real world, a beautiful and bright rainbow follows a storm and gives hope of things getting better.
'The rainbow is more appreciated having just experienced the storm in comparison' - the storm she described as being her pregnancy loss.
Sharing the news on her Instagram with her fans, Jessica captioned the image: 'Well, it is the start of the New Year, so best to start It off with how I mean to go on! WITH GOOD NEWS!!! We have a little rainbow baby on the way 2017 was a year of fun, sadness, change, laughter and love. 2018 is the year! Happy new year!'
She revealed in her blog post that the due date is on her boyfriend Alex's birthday.
However, this great news hasn't come without its worries and doubts for the couple. She explained: 'That's the thing with getting pregnant after a miscarriage.
'You are stopped from allowing yourself to fully enjoy those moments of excitement. In fact, it's a bloody emotional rollercoaster of constant worry of losing the baby and excitement of having a baby.'
She described feeling 'sick and panicky' about the possibility of having another heartbreaking miscarriage.
It seems that starting off 2018 with this wonderful news has really helped her to keep positive and put her life into perspective.
She said: 'I am a firm believer in the Power of the Universe, and at that moment it dawned on me that everything needs time to make sense, we just need to trust in our journey and know that everything will work out.'