'There have been times when I've felt alone' Jill Halfpenny reveals what it's REALLY like to be a single mum
The ex Biker Grove actress and In The Club star talks parenting in an exclusive interview with Essentials magazine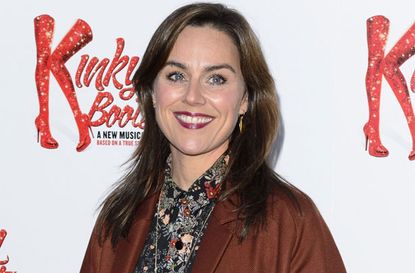 Jill Halfpenny has revealed that she used her experiences as a single mum to eight-year-old Harvey as inspiration for her latest role in BBC series In The Club.
The 40-year-old actress spoke exclusively to Essentials magazine, explaining that being a single mum helped shape her role as Diane - a frazzled mum-of-four left alone after her husband Rick was sent to prison.
'I might have a great situation now, but there have been times when I've felt alone, like I'm bringing up a child by myself, and that's hard,' Jill says. 'I can bring those experiences into Diane, but equally I can't imagine what it must be like for somebody who has four children to raise them all on their own.'
The star, who has appeared in both series of the BBC show, says she's happy about the way motherhood is portrayed in In The Club. 'It's chaotically real and not at all glamorised. It's hard for women to admit that motherhood isn't amazing all the time. It's almost taboo to acknowledge that, but the truth is we do shout at our kids and sometimes we're too tired to play with them.'
Jill, who started out her acting career in Byker Grove before finding fame as Rebecca Hopkins on Coronation Street, separated from her actor ex-husband Craig Conway in 2010, but the couple remain on good terms. The pair have both moved on with new partners and Jill has expressed her happiness that family life runs smoothly: 'Harvey gets on with all the adults who look after him, so we've managed to make all that work.'
But the Olivier-winning actress has said that the hardest part of being a single mum is something you wouldn't expect: 'You always thinks the hardest times will be when there's an emergency... but actually the most difficult thing is having no one to share the happy moments with.'
Still on good terms: Jill with her son Harvey and ex-husband Craig in 2014
Even though there's essentially four people to look after Harvey, Jill says she still feels guilty for going to work: 'I don't really know where it comes from, but there's just something inside you that makes it hard to be a part from your child.'
The Strictly winner says that if she goes a whole week without seeing her son Harvey, she starts to get upset. Although she does admit to enjoying the odd moment on her own - like having a coffee with her friends or reading a magazine on the train, 'but that feeling doesn't last long!'
Jill says the family work hard to make sure Harvey is taken care of - comparing schedules and filming dates. And if no one is available? She calls her mum!
Living in North London, the actress confesses she's much more of a homebody now than she used to be and if faced with the option to go on tour for nine month, she'd much rather stay at home: 'The older I get, the closer I want to be to Harvey, and my partner.'
Read more of Jill's thoughts of motherhood, body shaming and getting older in the latest issue of Essentials magazine, on sale now.
Inside the new issue, you'll find:
Exclusive interview with Jill Halfpenny


30% off Sanctuary for your best skin ever


Slimming World exclusive meal plan PLUS save £35 when you join!


Zombie Marriage - could YOU spot the signs?


Phil Spencer shares the secret for adding £££'s to your home


How to beat hay fever with the 11 remedies that really work