We earn a commission for products purchased through some links in this article.
Getting home from a shoe shopping trip and finding two right feet in the box is never ideal – but one dad who found himself in this unfortunate situation managed to turn his annoyance into a brilliant story.
John Hinder, who purchased the offending pair of shoes from his local Clarks store for his son Sam, posted his grievance on the brand's Facebook page, writing alongside the image:
'Slight customer experience fail…'
Image: Facebook/John Hinder
'As compensation I would like a hand drawn picture of Optimus Prime saying sorry to my son Sam,' he added in a comment underneath.
Many brands may not have risen to his cheeky challenge, but Clarks quickly commented back to let John know they'd seen his message, and had already set to work.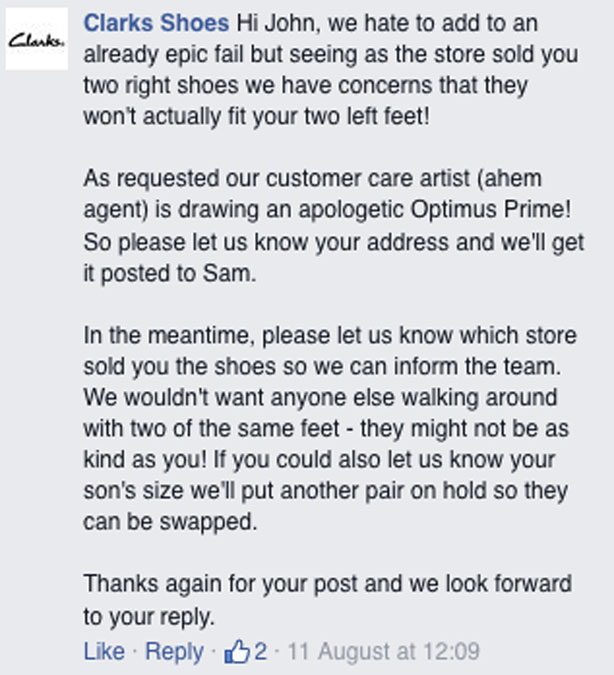 Image: Facebook/Clarks
John had already been back in store to swap the shoes for a fitting pair, but messaged across his address in anticipation of the picture – and lo and behold, it arrived, and it's actually not half bad!
Image: John Hinder
The geniunely hand-drawn picture, created by team member Sophie, was accompanied by a letter addressed to Sam from Optimus Prime himself, who apologised profusely for the mix-up.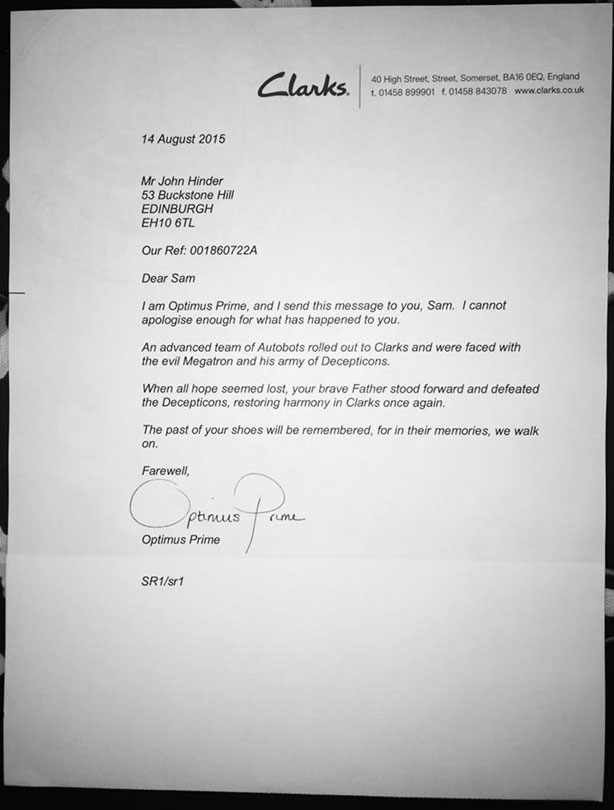 Image: John Hinder
John shared the hilarious story on his personal website, explaining his reasoning for taking a chance on the usual Facebook complaint format.
'So, what's the point of this? Well, we had a bit of a bad experience from a shoe purchase. It wasn't the end of the world but it did make my son upset, caused me a minor inconvenience and put a black mark over Clarks' brand in the Hinder household. Rather than a rant I thought it would be interesting to have a bit of fun with my "complaint" and see how Clarks would respond,' he explained.
'The outcome was a very happy child and a great brand experience for my wife and I. On top of that, from a social perspective, Clarks did a great job of responding to my request.'
'We've shared the pictures back on their Facebook timeline and they've received a fair-few likes, helping to cement their position as providers of excellent customer service.'
'In the end, what could've been a tedious complaint turned into a light-hearted, fun and positive experience for everyone involved and a major win for Clarks' customer service.'
Amen to that – great job Sophie and the team at Clarks!
Have you ever had unexpectedly brilliant customer service from a brand? Leave us a comment and share your story!