We earn a commission for products purchased through some links in this article.
We're not short of viral Facebook posts warning us about our children's safety these days – but whilst it can be irritating when they pile up in your newsfeed, this woman's latest message proves that they CAN save lives.
Karen McGregor saw a post about a young girl who was diagnosed with Lyme Disease, a bacterial infection spread to humans by infected ticks, which can cause problems with the heart, nervous system and joints. At the time, she thought little of it – until she recognised the same symptoms appearing in her own son, Liam.
Noticing that he had developed a 'bullseye' rash on his temple, Karen phoned her doctor and got the first appointment she could, and luckily, Liam was quickly prescribed a course of antibiotics. However, if Karen had not identified the rash as being serious enough to require treatment, it could have been a very different story – which is why she now wants to spread the word and let other parents know what they should be looking out for.
Image: Facebook/Karen McGregor
In a post on her own Facebook page, Karen shared the above image and wrote: '
PLEASE READ (and share): I am so grateful for the post similar to this one that I saw three days ago… a post that potentially has saved my sons life, or at least saved him from a life very different from the one he lives and loves right now. He isn't even two years old yet!
Yesterday I noticed a spot on his temple that looked a lot like a bullseye – the bullseye I had seen in a post about a little girl who was diagnosed with Lyme Disease. I phoned our doctor as soon as they opened yesterday and got him in quickly. Within a few hours, more and more of these bullseye spots were showing up on his face, legs and arms. We were given anti-biotics to treat for Lyme Disease and we are hoping we caught it in time!! The doctor had never seen this before in a child so young…
We ended up at McMaster Children's Hospital this morning for a second opinion because we really didn't want to mess around with something like Lyme Disease, and let me tell you – the staff at MAC are nothing short of world class! They were amazing with us! Two doctors looked at him and confirmed that it is indeed Lyme disease. The stage of rash indicates it must have been from a tick bite he would have received 3-4 weeks ago (we never even saw a tick…). The funny thing is that because my son had been on anti-biotics for 24 hours, the spots with the bullseye marking didn't look as bad as they did yesterday. It took the pictures I had taken with my phone, as well as the doctor seeing a brand new spot pop up while we were there to confirm what they were looking at. One of these amazing doctors even looked me straight in the eye and said "it's scary for a mom to hear all this… are you okay?"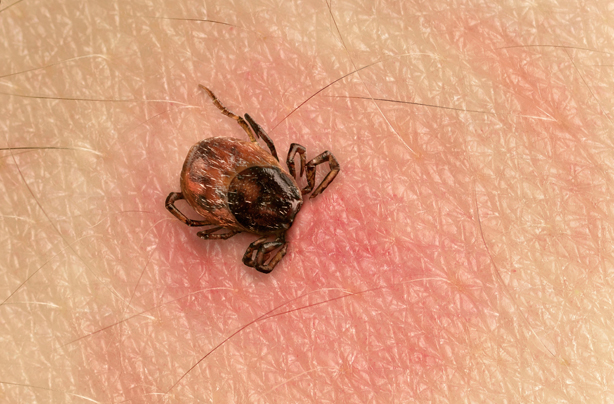 Lyme Disease originates from tick bites – Karen says she thinks Liam contracted it at a park near their home
I encourage everyone to watch for these spots!! They look just a bullseye, and had it not been for the post I read, I never would have known it was something more than a simple rash caused by being the long grass! Take a picture with your phone if you see one of these spots on yourself or your family – you might need it to show a doctor down the road what you saw.'
Despite the fact that Karen acknowledges that she's 'not an expert', her warning, which she posted on 20th June, has since been shared more than 170,000 times, with many parents saying they will now be much more aware of the symptoms of Lyme Disease thanks to her.
'I've literally seen half the ppl on my friends list share this. So I would say you've done a great job at making people aware,' one commenter wrote.
According the NHS, you can reduce the likelihood of contracting Lyme Disease by:
– keeping to footpaths and avoiding long grass when out walking – wearing appropriate clothing in tick-infested areas (a long-sleeved shirt and trousers tucked into your socks)
– wearing light-coloured fabrics that may help you spot a tick on your clothes – using insect repellent on exposed skin – inspecting your skin for ticks, particularly at the end of the day, including your head, neck and skin folds (armpits, groin, and waistband) – remove any ticks you find promptly – checking your children's head and neck areas, including their scalp making sure ticks are not brought home on your clothes – checking that pets do not bring ticks into your home in their fur
More advice on the symptoms of and treatment for Lyme Disease can be found on the NHS website. If you are concerned that your child may be affected, you should seek medical assistance as soon as possible.