Katie Price criticised for letting Princess grow her hair very long
Katie Price has been slammed by fans again...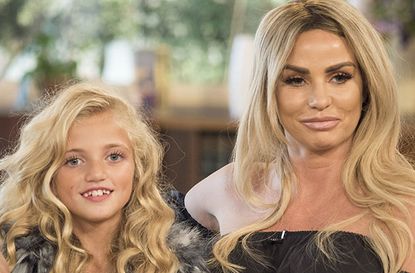 It seems like Katie Price can do no right when it comes to her children – at least in the eyes of social media trolls anyway.
The 39-year-old has been criticised once again after sharing a picture of her daughter Princess with extremely long hair.
The proud mum uploaded a snap to Instagram, clearly in admiration of her daughter's Rapunzel-like, golden blonde hair, simply captioning the image: 'That hair.'
She also added a series of love-struck eyes and crown emojis.
But it didn't take long for the naysayers to jump in and slam the mum of five, claiming she shouldn't neglect her daughter's haircare and urged Katie to take Princess for a 'good trim.'
One said: 'No point having long hair that isn't healthy. All those ends need going! Just saying as a professional hair dresser.'
Another commented: 'Looks like rats tails. Needs a good trim.'
While a third nastily said: 'Pass the scissors. It is beyond me why people have their hair long when it looks like this! Yuk.'
Others were disappointed that Katie had straightened out Princess' natural curls.
One wrote: 'Stop straightening that beautiful hair, the ends are shot chick! Her curls were beautiful.'
Princess' dad Peter Andre may also be upset with her straightened hair as he previously revealed it made her look like a 'troll'.
He said: 'She has naturally curly blonde hair which [was] straightened recently and it didn't look good - she looked like a little troll.'
Meanwhile, Katie has also faced criticism regarding her son Junior, Princess' brother, when she revealed that he is launching his own clothing collection - at the age of 12.
Many of her fans claimed that he is far too young to be working on such a large project.
One concerned follower said: 'Bit too young I think ........should be enjoying his childhood rather than business ideas .....maybe when he's older.'
Another added: 'She's a good mum but to me this is ridiculous.... It's not a good move. They need to have life experience before all this.'