'Don't you care about their teeth?' Katie Price slammed by fans for giving children juice in bottles
Fans were not happy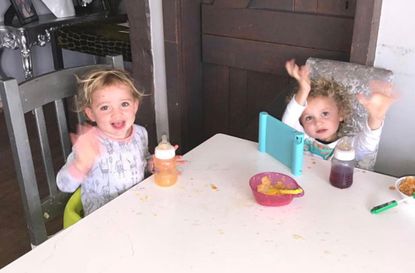 GoodTo newsletter
Sign up to the GoodTo Newsletter. You can unsubscribe at any time. For more information about how to do this, and how we hold your data, please see our privacy policy
Thank you for signing up to . You will receive a verification email shortly.
There was a problem. Please refresh the page and try again.
Katie Price has been slammed by fans on social media for giving her youngest children juice in a bottle rather than a cup.
The mum-of-five came under fire after she posted a picture of her two youngest children, three-year-old Jett Riviera and two-year-old Bunny, having breakfast.
In the snap, which she captioned 'Breakfast time', the children can be seen sipping fruit juice from a bottle.
Fans were quick to criticise the mum over this, pointing out that giving young children juice in a bottle is more harmful for their teeth. Social media users suggested that as the children are sucking the juice slowly from a bottle, this causes sugar to stay in their mouth for longer, which can cause tooth decay.
One fan wrote in the comments: 'Juice in a bottle!!! Don't u care about their teeth!', while another said 'Should they not be drinking from cups.'
A third agreed, writing: 'Surely they should be drinking from a cup by now.'
However, some fans came out in Katie's defence, saying that parenting is not easy and that what she gives to her children is her choice.
'Not here to slam, kids can be difficult to wean off things that are comforting, or things that they're used to', one wrote.
'My son had juice in a bottle until 3 1/2years old. His took no harm as he was hydrated!', another added.
'So what if she wants to put juice in the kids bottles. That's her choice.', a third commented.
The NHS advises parents to wean children off bottles (opens in new tab) at the age of one, in order to prevent tooth decay: 'Your child should begin moving off the bottle and on to a free-flow feeder cup at six months.
'Try to get them off bottles completely by the age of one, because the teats and spouts encourage children to suck for long periods of time, meaning the drinks that cause tooth decay stay in contact with your child's teeth for a long time.'