Skins actress Kaya Scodelario welcomes her first child with husband Benjamin Walker
What a beautiful family!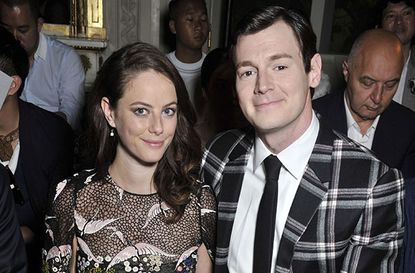 British actress Kaya Scodelario has announced that she and her husband Benjamin Walker have welcomed their first child.
The actress, best known for her role as Effie in the hit TV show Skins, announced the happy news of the birth via Instagram, in a similarly sweet way to her pregnancy announcement.
Posting a beautiful picture for her one million fans and followers to see, she shared a sweet message explaining that she and husband Benjamin now have a son.
Her caption read, 'Welcome to the world little man. We couldn't be happier or more in love with you & Arnie's loving his new cuddle buddy. ❤️'
The picture shows an adorably tiny new born hand and the couple's cute dog nuzzling into it.
Fans have been flooding the actress with messages of congratulations: 'Congratulations Kaya 💕 I hope he is everything you dreamed and more. Love to you and your family' and 'Congratulations 👶💐 health and happiness of your child 👼💟💋'.
So far Kaya is yet to reveal the name of her baby boy.
The 24 year old also used Instagram to share the news of her pregnancy. Earlier this year in a sweet snap, Kaya and Benjamin, who is also an actor, can be seen standing on a beach kissing, with their dog by their side and a love heart drawn in the sand.
[instagram]
the image, Kaya simply wrote, 'I love you @findthewalker I love our little family 👫👶🏻'.
Fans were quick to congratulate the couple, with well wishes flooding in. One fan, milena_daisy on Instagram, wrote 'OMG I literally cried when I saw this I am so happy for you!!!!😭😭😭 I love you so much!!!💕💕💕' while follower desubicxda said, 'Congratulations you two I'm so happy 😍💖'
Kaya and Benjamin had a whirlwind romance after meeting and falling in love in April 2014 while they were filming The Moon and The Sun together. Within two months of their meeting they were a couple.
They were married in a low-key secret ceremony just over a year later, during the winter of 2015. Kaya announced that she was now a married woman after the celebrations had taken place by uploading a picture of bride and groom wedding cake toppers along with the caption 'Happy New Year everyone.'
[instagram]
her first announcement of her nuptials Kaya made the news official by sharing snaps of the day, giving followers a glimpse into her beautiful wedding, where she wore a Vera Wang dress.
Since starring in Skins Kaya has had plenty of big roles in hit films such as Hollywood blockbusters like The Maze Runner and The Scorch Trails.