The shocking child safety dangers behind your household batteries
Huge concerns around kids' battery safety have been raised after an 8-month-old baby ingested a lithium-ion button battery with hugely damaging results...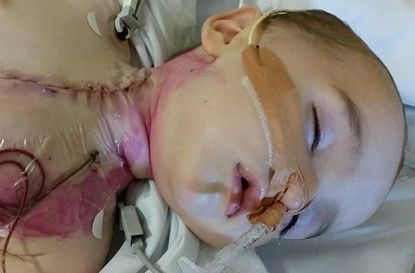 We'd all do anything to protect our kids, and for the most part, we do. But there are all sorts of hidden hazards in our homes which we can't always protect against or forsee.
This tragic story of 8-month-old Devon Hacche is one in a string of cases which makes this more apparent than ever. Little Devon, from New Zealand, is currently in hospital facing an uncertain future, after swallowing a household battery.
Devon was admitted to the Pediatric Intensive Care Unit at Auckland's Starship Children's Hospital on December 17 2014, after being diagnosed with bronchiolitis - a common respiratory infection in children under one - just two days earlier by his GP with symptoms of a runny nose, some mild wheezing and a grumpier-than-usual temperament.
An X-ray at the hospital revealed that Devon had a small, round battery lodged in his esophagus.
Devon has faced five gruelling operations and has years of treatment to follow.
Image: Amanda Hacche/Givealittle
The battery had reacted with his saliva and caused an electro-chemical reaction, resulting in extreme corrosion burns to the soft tissue of his feeding tube, breathing tube and vocal chords.
His parents have now set up a donations page on New Zealand fundraising site Givealittle, to raise awareness of this terribe accident and help enable his mother to stay by his bedside through his recovery.
Devon's mum, Amanda, said:
'It turns out this is one of the most damaging and dangerous things that my beautiful boy could have ever ingested.
'Devon may never breathe independently again and he will remain without a voice - he can not make sound without vocal cord function.'
Although the battery was removed immediately after it was found, the damage it had left behind was huge.
The batteries in question are these; lithium-ion batteries which can be found in a range of household items such as watches, calculators, hearing aids and camcorders. The relatively innocent-looking button batteries - as they are more commonly known - are very small and could easily be swallowed by a child who might pop one in their mouth due to their sweetie-like appearance.
Lithium-ion batteries can come in different shapes, but the small, round form - commonly called 'button batteries' - can be easily ingested by a child and cause tremendous amounts of damage.
Leading UK paediatrician Dr Kate Parkins, a consultant for Manchester's Paediatric Intensive Care Transport Service, has recently highlighted concerns around the lithium-ion battery, after two local children died, and five more suffered life-changing injuries, after swallowing them.
She called for a national campaign to highlight the dangers of lithium-ion button batteries - which are about the size of a 10 pence piece - as they cause severe injury within two hours. She told the BBC:
'It's not what's inside the battery. The battery sets up an electrical current that causes a burn through the oesophagus, the feeding tube, and that can then burn through into major blood vessels and that's why the bleeding is then pretty much impossible to control and stop.'
After five operations to remove the burnt tissue and repair the 5cm hole left by the reaction, Devon now faces a gruelling eight-month hospital stay and years of treatment to come thereafter.
Always remember to keep batteries and small items out of your baby or toddler's reach.
Our thoughts are with Devon's family at this terrible time.
Parenting advice, hot topics, best buys and family finance tips delivered straight to your inbox.
Gemma Chandler is a lifestyle writer specialising in kids' educational media across a range of topics including nature, history, science and geography across digital, print, social media and video channels. She joined Creature & Co. at 2015, shortly becoming Digital Editor of National Geographic Kids magazine.