We earn a commission for products purchased through some links in this article.
Dancing, divorce and dating again, Kirsty Gallacher reflects on her most challenging year yet in an exclusive interview in the December issue of Essentials magazine. Read on for a sneak preview…
On single motherhood…
Life is non-stop. I have a very tight down-to-the-minute schedule because structuring everything is the only way to do it. I'm no different to a lot of mums out there who work very hard, have no free time and hardly sleep! My ex-husband Paul and I share time with the boys 50/50. When I've got them, I shelve everything else.
On her Strictly Come Dancing journey…
At first, training was quite stressful. It was hard fitting in work and rehearsals, and that was combined with the enormity of thinking, 'I've got to perform on this huge show and I'm not a dancer!'. Even at weddings, I'm the last person on the dance floor. But that's why I wanted to do the show: to take myself out of my comfort zone. I think it's good to do that. After the first dance, I said to myself, 'Kirsty, you're doing this for fun, it's not your job – it's a lovely thing to add to your life, a journey you have to go on'.
On her dance disasters…
I knew there'd be weeks that weren't great. I just wanted to show progression each time. Some people are going to be faster learners than others, some will have danced before, or they might be professional performers, but for me, it was like learning a new language. It couldn't be further from the world of sports presenting, but I like a challenge!
On her challenging year…
There have been a lot of ups and downs this year. It's been difficult with the divorce and it has been a sad time, but I also know it is the right choice. It has been a challenging year, but there have also been fabulous highlights. Being in Strictly alongside my Sky Sports career has made it one of my best work years, so hopefully I can build on that and have an even better year in 2016. I know I'm a strong person; I have to be. I have two children and I work. You just have to keep going.
On dating again…
I'm single and I'm not looking for anyone at the moment, but I'm open to it. I have dated this year and, after spending 15 years with just one person, it was interesting. It's fun and exciting, but 
I tried not to put any pressure on myself and I learned that you should only do it if it's right. We'll see what happens 
next year – hopefully good things!
To read the full interview with Kirsty, pick up the latest issue of Essentials on sale now.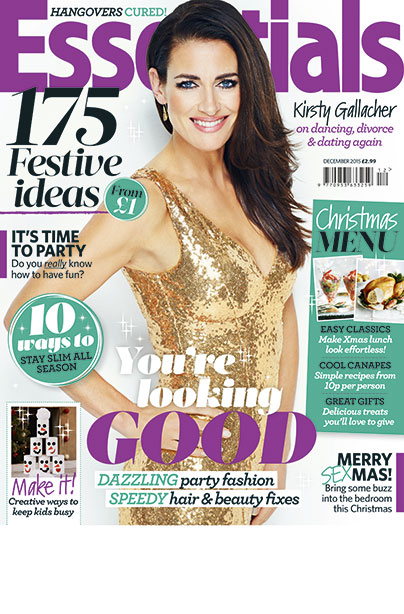 Inside the new issue you'll find:
Exclusive interview with Kirsty Gallacher: I'm a strong person. I have to be'
175 Festive ideas from just £1
10 Ways to stay slim all season
Merry Sexmas! Bring some buzz into the bedroom
Dazzling party fashion
Christmas menu: Easy classics, cool canapés, great gifts
Creative ways to keep kids busy