Pregnant Laura Kenny reveals why she WON'T be having a hypnobirth
'You can't breathe it out, you're going to have to push!'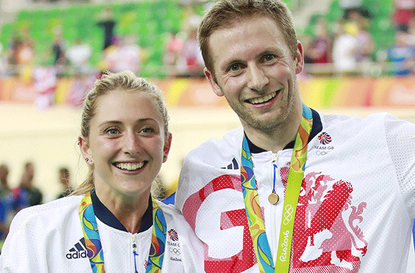 GoodTo newsletter
Sign up to the GoodTo Newsletter. You can unsubscribe at any time. For more information about how to do this, and how we hold your data, please see our privacy policy
Thank you for signing up to . You will receive a verification email shortly.
There was a problem. Please refresh the page and try again.
Olympic cyclist Laura Kenny has opened up about her plans for labour (opens in new tab) as she prepares to welcome her first child.
Speaking to GoodtoKnow, the mum-to-be said she hoped to give birth naturally, but said there was one method she wouldn't be trying - hypnobirthing (opens in new tab).
'I want to try and do it as natural as possible. I'm not totally against a water birth (opens in new tab) but some things I'm not into, like hypnobirthing, I'm just not into stuff like that at all,' she said.
'I don't know why, but part of me feels like "You can't breathe it out, you're going to have to push!" 'I understand that this is going to hurt, I've just accepted that, but I think, people choose to have more than one child, so it can't be that bad, it almost doesn't bother me. It's all worth it in the end, it's happiness then, the pain's gone.'
Now over halfway through her pregnancy, she added that she and husband Jason are 'so excited' about becoming parents for the first time.
'I'm just so excited about literally everything and anything, I've wanted it for ages. Me and Jason had decided after the Olympics that we were going to start trying for a baby. I used to love my family life at home, and I want to bring a child into that sort of environment, because it was so nice for me growing up.'
'Jason's excited too, bless him. It's funny actually, because you're doing it now, it's down to you to grow this little thing, and they don't really have that much to do with it, and then the other day we could feel it kick on the outside for the first time, and you should have seen him! He just brightened up, because I guess that's the first time he's had any sort of interaction with it, apart from obviously seeing all of the scans.'
'We're not going to find out if we're having a boy or a girl,' she revealed. 'We just don't want to, we're happy for the surprise.'
Laura admits that she hasn't had many problems throughout her pregnancy: 'I always feel bad when people ask me this, because I'm like "no really, it's fine, growing a child is actually quite easy!"' she jokes.
'I've been quite lucky with it. I have carried on exercising, tiredness was a symptom but because I always sleep anyway in the afternoon, that's just what you do as an athlete, I think that maybe masked it? I haven't had any morning sickness or cravings.'
However, there is one unusual side effect that Laura has noticed - an increased need for hay fever remedies (opens in new tab) whilst expecting.
'I've had hay fever (opens in new tab) for as long as I can remember, and now I'm pregnant, this year my symptoms seem to have started earlier and to be much worse,' she says. 'As a cyclist, I still want to be riding, and spending lots of time outside – I want to try and carry on my normal routine and enjoy being pregnant without hay fever holding me back'.
And as for whether her little one will follow in her sporty footsteps?
'Well it's got to be sort of born with it, hasn't it?!' she laughs. 'I guess that's what it's going to grow up with to begin with, for as long as me and Jason keep cycling, but I wouldn't push it. Obviously I would get them to do sport cos I think it's a healthy lifestyle, and to begin with I'll take them to classes and stuff. But if they didn't like sport or if they didn't like cycling I wouldn't push them into anything.'
Laura has teamed up with Boots UK to raise awareness of pregnancy hay fever, and help spread the word to other pregnant women about how they can make simple lifestyle changes to reduce their symptoms and make them aware of the advice available to them at their high street pharmacy. For more information visit your local Boots store.