14 of the best natural hay fever remedies for all the family - from toddlers to teens
We've asked the experts for their advice on the best natural hay fever remedies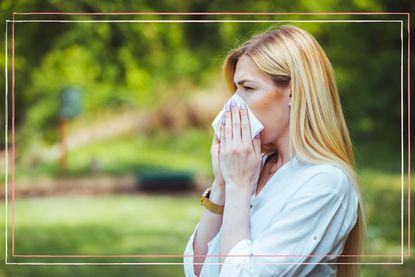 (Image credit: Getty Images)
Natural hay fever remedies can be an alternative to over-the-counter options in the spring and summer, as the weather gets warmer and the pollen count grows.
While many people seek out over-the-counter medications for seasonal allergies, hay fever is equally as easy to treat with natural remedies. With more of us experiencing classic hay fever symptoms than ever before - as climate change leads to the pollen season lasting longer and longer - it's important to have go-tos in your back pocket.
"As the climate changes, so does the make-up of plant pollens." Pharmacist Stuart Gale from Oxford Online Pharmacy explains, "Although you were previously exposed to pollens throughout your life which did not affect you, you may suddenly find you're sensitive to a particular pollen strain. Pollen counts are on the increase, combined with warmer summers. This exacerbates the impact of pollution on the body."
So, if you want to save on hay fever tablets, then check out this list of expert-approved natural hay fever remedies - with something suitable for all ages.
14 of the best natural hay fever remedies
Naturopath Ben Brown, expert advisor to the Health Food Manufacturers Association (HFMA), explains that there's no need to turn to medications for hay fever relief, as "there are several vitamins and minerals found in foods that can help to manage hay fever symptoms for sufferers."
He explains, "Hay fever, or allergic rhinitis, is a common allergic reaction to pollen and spores and can cause rapid onset or irritating and uncomfortable symptoms, including itchy, watering eyes, stuffy nose, sneezing and headaches."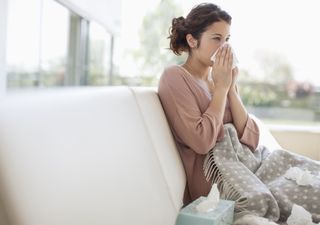 Though hay fever can be unpleasant, there are also plenty of unwanted side effects associated with over-the-counter hay fever medications - such as drowsiness - which can affect your focus and make you feel tired all the time.
Meanwhile, eye drops can cause eyes to sting, and nasal decongestants can lead to an itchy rash around the nose. There's also a debate over hay fever medication during pregnancy, and while babies can get hay fever not all antihistamines are safe for young children.
Natural hay fever remedies for babies
1. Keep pollen out of your home
Many natural hay fever remedies aren't suitable for very young babies, so the best thing to do is prevent symptoms by stopping pollen from getting into your home. While it might be tempting to have the windows open on a warm spring day, you're simply inviting irritants inside - so keeping your doors and windows completely closed will help to prevent pollen getting in.
Make your bedroom an anti-pollen zone by ensuring the windows are kept always shut, and washing bedding regularly will also help. Make sure to not wear clothes you've worn outside in the bedroom, as this will simply transfer pollen and other allergens to your sheets.
2. Invest in an air purifier
Air purifiers remove dust and other particles from the air - therefore removing the triggers of your allergies - so sleeping with an air-purifying device can massively reduce hay fever symptoms during the night or nap times.
Meanwhile, a cool mist humidifier can also help relieve symptoms. Adding moisture into the air by emitting water vapour, humidifiers can help clear your airways and make it easier to breathe. Keeping these passages moisturised will prevent congestion and dryness.
Natural hay fever remedies for children
3. Honey
Honey is said to be a natural remedy for hay fever because the bee pollen in it can desensitise your body to other pollens, and studies have shown that ingesting honey reduces symptoms of inflammation in the nose caused by allergic rhinitis.
Increasing honey in your daily dietary intake should reduce hay fever symptoms significantly - though make sure you use local honey to your area to see the best results - and the great thing about this natural hay fever remedy is that it tastes good too!
When to take: Daily before hay fever season starts.
4. Vitamin C
Vitamin C is a known natural antihistamine and can be found in oranges, lemons and grapefruit. Also present are bioflavonoids, which have powerful anti-allergy effects. The combination of vitamin C and bioflavonoids together provide a natural decongestant and antihistamine for sufferers and help alleviate symptoms.
"Vitamin C acts as a natural antihistamine," says Nutritional Therapist Alison Cullen from natural remedies manufacturer A.Vogel. "Your body can't make or store vitamin C, so it has to be available in low, consistent doses to support your nasal lining."
Oranges make for a natural hay fever remedy that is convenient, tasty and cheap because they're a good source of vitamin C, or you could take a supplement.
What to take: 1,000mg of vitamin C a day.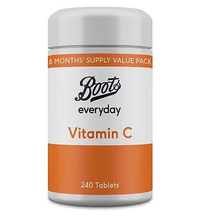 5. Carotenoids
Naturally occurring pigments in plants, carotenoids act as powerful antioxidants to help reduce inflammation in your airways and boost your immune system. A good source of carotenoids can be found in foods such as carrots, apricots, pumpkin, sweet potato and spinach - natural remedies for hay fever can actually be pretty tasty!
When to take: One to two servings of carotenoid-rich food per day.
6. Vaseline
Hay fever sufferers praise Vaseline for being a vital hay fever remedy as soon as the weather begins to warm up. Spreading a thin layer of Vaseline inside the lower nostrils can help combat hay fever and reduce symptoms significantly, as the Vaseline traps pollen entering the nostrils. It's effectively blocking the pollen from entering the nasal passages and stops hay fever symptoms from worsening.
This is another natural hay fever remedy that you probably already own - and if you don't, you can pick up a tub from your local supermarket for less than £3.
When to take: Daily during hay fever season, before leaving the house.