Could maiden names be the latest baby name trend?
New mums are giving their maiden names as first names to 'represent families equally'.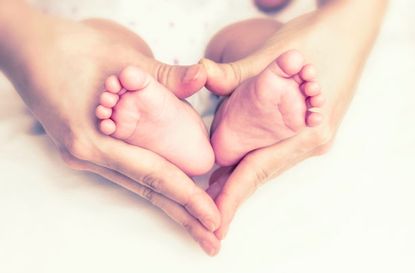 When coming up with a baby name, many parents struggle to think of a name that's personal and meaningful to them, but still unique. Could maiden names be the latest baby name trend?
Naming expert Laura Wattenberg, author of The Baby Name Wizard website and book, says: 'When it comes to naming kids, there has been a huge shift away from a desire to fit in and toward a desire to stand out. I often have people saying to me, 'I'm ruling out any name in the top thousand'.'
But now millenial mums have come up with a novel way to give their baby an individual name and honour their heritage simultaneously - by calling their newborn their maiden name as a first name.
More and more women are chosing to pass on their maiden names in this way, with many saying that they want to preserve the surname after changing their own through marriage. Laura explains that the practice has been common in the Southern states of America in the past, but lessened as fewer women took their husband's name - until the recent resurgence.
'This is a challenge that lots of couples are approaching in different ways,' she adds. 'Whether or not the parents change their names at marriage, there's a feeling that you want both families to be represented equally in the kids' names.'
More and more mums are making maiden names their first choice
The trend may also be influenced by the fact that names like 'Harrison' and 'Jackson' are making it into the most popular baby name (opens in new tab) lists of their own accord, meaning that names that sound like surnames are big news on the baby name scene, with parents using rarer maiden names for a more unusual take on the trend.
'The internet encourages people to think of baby names like user names,' Laura reveals. ''Once a name is taken, they think, 'That's it - I have to find a new one'.'
Of course, no matter how much you love the idea, if your name is especially long, complicated or difficult to read and pronounce, maiden naming may not be the best option for you or your child.
One mother on baby name forum What to Expect wrote: '[I] have several friends who used their maiden names (Davis, Robinson, etc) as first or middle names. I was so jealous. Love the idea, but my maiden name was very long and very Polish. Poor kid wouldn't stand a chance!'
Need maiden name inspiration? Here are some of our favourites
Johnson
Carter
Archer
Campbell
Smith
Marley
Harper
Cole
Walker
Franklin
Kelly
Mason
Reagan
Taylor
Cassidy
Would you give your baby your maiden name as their first name? Leave us a comment and let us know your thoughts!