10 ways to make chores fun for kids (and you!)
Get the right approach and it'll be win-win for everyone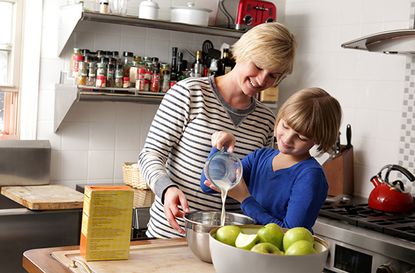 (Image credit: Getty Images/Image Source)
Busy households don't run themselves but getting jobs done as a family will not only lighten your load, it'll get the whole family to pull together.
Your kids will learn to take responsibility, master practical life skills and feel part of the team. Be sure to give them lots of praise as it may take some getting used to – and don't expect perfection straight away. Keep a bottle of Nestlé Pure Life water* to hand – carrying out chores is thirsty work, and children will need plenty of top-ups! Need some tips on how to get them started? Look no further...
1. Tidy-up time
Okay, we can't just snap our fingers like Mary Poppins and make tidying up happen on its own, but it is possible to have fun while doing it. Set aside a regular 10 minutes every day when the kids clear up their activities, whether they've been drawing, painting or playing with Lego. Put on some dance music to boost everyone's spirits, and it'll be done in no time.
2. Helping at mealtimes
Inviting children into the kitchen to help out with preparing and cooking a meal may initially seem more hassle than it's worth, but stick at it and you'll find yourself with a genuinely helpful and eager little assistant. Children love measuring, mixing and pouring. They'll also be dab hands at buttering bread for sandwiches If you soften the butter first. Involve younger children by getting them to lay the table, putting out glasses and a big bottle of Nestlé Pure Life water for the family to share during the meal.
3. Looking after their bedrooms
Kids' bedrooms are never going to be showroom-perfect, but getting them organised is a real winner. First off, you'll need to teach kids how to tidy. The trick is to be specific – ask for books to go back on shelves, toys to be packed away in a box and the duvet and pillow straightened on the beds. That way the kids can't claim they've finished when there are still books and toys lying on the floor.
4. Cleaning the floors
It's amazing just how much fun a child can have with a dustpan and brush – just think of all those toy cleaning sets your child has played with. Now you can let them loose with the real thing. Make a game out of spotting crumbs and whisking them away. Before you know it, your floors will be spotless. Older children will love wielding a vacuum cleaner too – give them some headphones and fast-paced music and it won't even feel like it's a chore.
5. Feeding pets
Asking children to put food down for the cat or water in the dog's bowl are straightforward tasks. And easy-open pouches of food and dry biscuits make it even easier, so there's no reason why even young children can't take responsibility for this. But keep an eye on their portion control, as it's tempting to overfeed a greedy dog!
6. Washing the dishes
Show your kids how to scrape and rinse their plates. Then fill a bowl with warm, soapy water and let them loose with a sponge. Children love bubbles, but keep mess to a minimum by getting them to put on rubber gloves and an apron first.
7. Getting ready for school
Let's be honest – the school run is stressful. So encouraging the children to get their school bags organised the night before is actually a great idea. From books to homework and PE kits, you'll probably find they know what they need better than you do. In the morning, they can also pack their own lunchboxes, including a bottle of Nestlé Pure Life water to sip at break times
8. Recycling
This is a very easy way for the kids help out, and it's good for the environment too, so get them into good habits from an early age. Keep a special recycling bin in the kitchen or by the front door, and encourage them to compost your food waste too.
9. Sorting the washing
Separating colours from whites is a simple chore any child can do. Young children will be happy to sort through socks, bedding and towels before putting them into piles, while older children could even set the machine for you. Just make sure you give them a lesson in wash labels and temperatures first!
10. Cleaning shoes
It's amazing how messy children's shoes can get. Getting them to polish their shoes once a week can be useful. Even trainers need a wipe-down every now and then with a damp cloth, and this is a task for kids of all ages.
*Water contributes to the maintenance of normal physical and cognitive function and normal regulation of body temperature. At least 2L of water, from all sources, should be consumed per day as part of a healthy diet and lifestyle.
Trusted, informative, and empathetic – GoodTo is the ultimate online destination for mums. Established in 2007, our 15-year-strong archive of content includes more than 18,000 articles, 1,500 how-to videos, and 7,000 recipes.