We earn a commission for products purchased through some links in this article.
From first smiles to first steps, most of us have experienced milestones with our kids that we wished we'd captured on camera – but few of us have had the sheer luck to film them accidentally, like this dad did!
Wesley Lawrence thought he was simply filming his nine-month-old daughter crawling on the grass in their front garden – 'I was trying to film her crawling weirdly like she does through the yard but she had a different idea,' he wrote under the 30 second clip.
After wriggling around on the lawn for a while, the little girl quickly presses her feet to the ground and pulls herself upwards to stand up straight – for the very first time in her life!
'Holy sh*t!' her dad exclaims, as he focuses the camera on her achievement. 'Good girl!'
Of course, it's not long til she's back down to earth with a bump, but for a first try without any support, she looks pretty stable to us!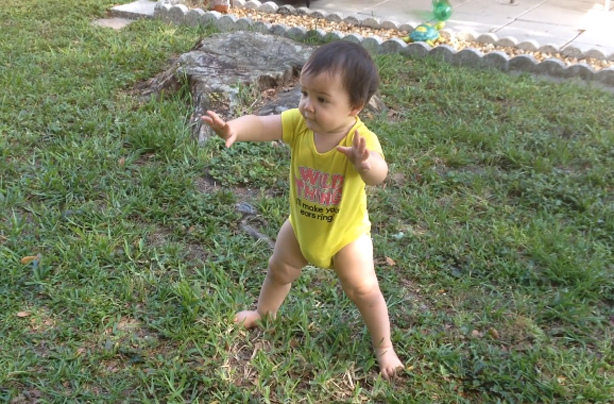 Most babies take their first steps between the ages of 9-12 months, so Wesley's little one is in the early half of her expected age group.
Watch the first steps in full below
However, he later shared a video of her on the same day, doing the crawl he intended to capture in the first place, and he has another theory about why she was so quick to get to her feet.
'To me it seems odd she doesn't want her knees to touch the grass,' he says – but whether he's right and she simply doesn't like the feel of the lawn on her legs, or she's actually super talented and destined to become an athelete of some kind, we love the fact she took her dad by such surprise – especially whilst his camera was running!
Did you manage to capture any of your little one's 'firsts' on film? Or are there any you missed that you wish you could see again? Leave us a comment below and let us know!