We earn a commission for products purchased through some links in this article.
Image: Facebook/Marcy's Diner
Like many social media users, when mum Tara Carson had a bad experience at a local restaurant, she took to Facebook to vent her frustrations.
However, rather than the usual mix-up with the orders or food arriving cold, she had a rather more serious accusation to make against the establishment. Writing on the page for Marcy's Diner in Portland Maine, Tara posted:
'I had the worst experience at this restaurant. The owner is an absolute lunatic and screamed in the face of my almost 2 year old child bc she was crying. Who in their right mind would behave like this unless you are deranged.'
'You have a problem with a child crying then you are not suitable to run a business.'
Tara's now-deleted Facebook post in full
Image: Twitter/TVTEDDY
'If it bothered you so much you should have spoken to me and not traumatized my child by screaming in her face. May karma bite you in the a@@.'
Darla Neugebauer, the owner of the diner, commented back, but rather than issue an apology, she left a rather sweary response to Tara's post, justifying her actions.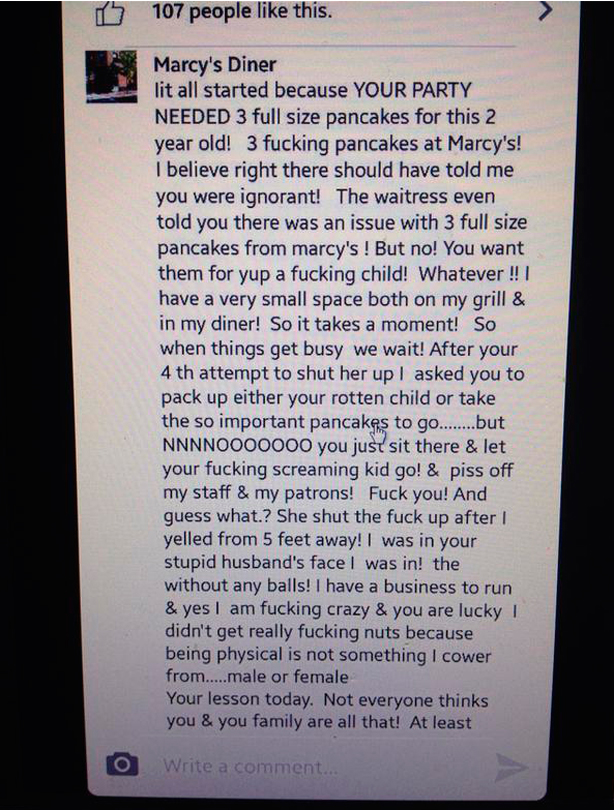 Image: Twitter/TVTEDDY
It becomes clear that the order, of three full-size pancakes, was taking longer than usual to arrive, and the child in question has been making noise in the meantime – something Darla was not impressed with.
'After your 4th attempt to shut her up I asked you to pack up either your rotten child or take the so important pancakes to go…….but NNNNOOOOOOO you just sit there & let your f*cking screaming kid go! & p*ss off my staff & my patrons!' she wrote. 'And guess what.? She shut the f*ck up after I yelled from 5 feet away!'
When the post started gaining attention online, Darla then posted an explanation of her actions:
Image: Facebook/Marcy's Diner
Since the story broke, commenters have arrived on the diner's Facebook page in droves – some with words of support for Tara and her child, but many saying that Darla 'did the right thing'. 'I'm not from there but I need a plane ticket to Maine to shake this woman's hand! I applaud u for standing your grounds and not letting your customers get pissed off and leave because of someone who can't control their kids,' one commenter said.
'Good job I wish more people would stand up to parents that wont stop there kids from acting up in public I have two kids myself and would never let my kids act that way if anything I would leave so the other people can enjoy there meal', another agreed.
Others concur with the support, saying;'Whenever I visit your state I'm making sure I have breakfast/lunch there! You Rock!'
Local news stations have since interviewed Darla, but she stands by her actions.
'I slammed my hands on the table and said, 'This needs to stop' — meaning her screaming — and I pointed at her and she looked at me and she stopped. I might have used poor judgment,' she said in an interview with KVUE, 'but I wouldn't say I was sorry, because it stopped. When things stop, it's usually a good thing.'
How would YOU have reacted if someone else disciplined your child in a restaurant? Leave us a comment and let us know your thoughts on the story!