Martine McCutcheon praised by fans for honest Instagram post about family nanny
'It makes my life as a working mum a lot less stressful knowing he is so well taken care of'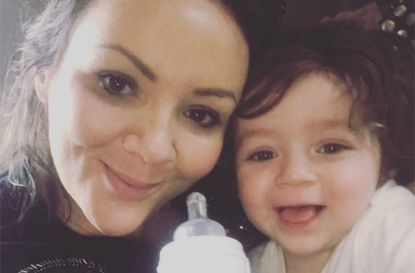 GoodTo newsletter
Sign up to the GoodTo Newsletter. You can unsubscribe at any time. For more information about how to do this, and how we hold your data, please see our privacy policy
Thank you for signing up to . You will receive a verification email shortly.
There was a problem. Please refresh the page and try again.
Martine McCutcheon has been praised by followers for publicly showing her appreciation for her son's nanny, admitting having help makes her life much easier as a 'working mum'.
The 40-year-old took to Instagram to share a sweet selfie of herself and her two-year-old son Rafferty's nanny, Ewa, using her post to give fans an insight into her parenting choice to have a nanny.
Smiling to the camera, Martine made it obvious how glad she was to have Ewa around, which she reiterated in a lovely caption.
The Love Actually star started, 'Here I am with the lady who looks after my beautiful boy so well when I'm away working and his granny's are busy buying him treats and knitting him jumpers.'
Thanking Ewa for not only helping with her son, but 'adoring' him too, the actress noted that as a working mum she is 'grateful' to have help.
'Thank you for not only taking care of him Ewa, but for genuinely adoring him too - it makes my life as a working mum a lot less stressful knowing he is so well taken care of.'
'I'm really grateful and thankful, Big hugs xxxx 👍🏼😍👶🏽'
Fans flooded Martine's post with messages of praise, with many commenting on how important it is to appreciate your staff.
'How lovely that someone is telling their employees how much they treasure them. More people should be like that.'
Some Instagram users who are nanny's themselves explained how much it means to feel appreciated by a family they are working with.
'So lovely to hear someone recognise how much their nanny puts in, it makes us appreciate the families we work for so much more too ✌🏻👍🏻'
'I am a nanny and every day the family show me how much they appreciate me - this is so lovely to see !! Xx'
Other working mums seemed to identify with Martine's message, saying it can be difficult to find someone to love your child that isn't part of your family.
'Makes such a difference finding someone who will love your children but is not your family. I have been lucky also. Working mums don't have it easy but it's made easier by special people xx ❤️'