Matt Lucas writes heartwarming letter for young boy with alopecia
'Women find it sexy!'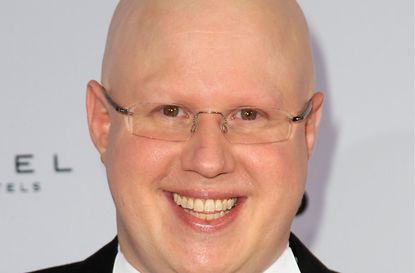 Matt Lucas is known for being a very funny man, but this latest news has proved that he's also a kind one too.
A story from Air BnB's Good News Bulletin has told of how Matt reached out to a young fan, Jacob Fitzpatrick, when he found out he was suffering from alopecia - a condition that causes hair loss which Matt himself was diagnosed with at age 6.
Jacob was aged just 10 when chunks of his hair started falling out without explanation. 'I didn't know why it was happening or anything like that, so I didn't really know what to do,' the now 14-year-old explains in the clip.
Jacob and his mum Sarah had to visit several doctors to investigate his symptoms, but eventually they received a diagnosis of alopecia - something which came as a huge blow to Jacob's confidence.
'As a mum, I guess you want to fix everything really, and I couldn't,' said Jacob's mother Sarah. 'There wasn't anything I could do.'
'I was just scared they would judge me or just stare at me,' he adds, with shots of old pictures showing how he would choose to wear a hat at all times to try and conceal his condition.
Distraught at her son's extreme self-consciousness, Sarah decided to try and contact Matt, one of Jacob's favourite comedians, after learning that he was a fellow sufferer.
'The other evening, we were looking online at famous people who had the same condition, and your name came up,' she wrote. 'I was trying to show him that it won't stop him from achieving whatever he wants to in life.'
Sarah kept the letter a secret, fearing Jacob would be disappointed if they didn't hear back, but as it turns out, she needn't have worried, as Matt sent back an autographed picture with a heartfelt message for her son.
'I just wanted to say that I found it tough when I lost my hair aged six, but you'll find it does get much easier,' the 41-year-old comedian told Jacob. 'And women find it sexy! You're gonna be fine.'
'To actually write that note, which was really personal for Jacob, and obviously personal for him as well, really showed what sort of person he is, and how kind he is,' Sarah says.
Jacob credits Matt with boosting his confidence, and while his hair may never completely regrow, he now feels that he can live life to the fullest regardless.
What a lovely gesture from a lovely man!
See Jacob's story in full
http://www.youtube.com/watch?v=F9iLjc_MjgY