Why Mickey Mouse Clubhouse is the worst kids' TV show EVER
Jude from Kiki Blah-Blah reveals why she thinks Mickey and the gang are quite possibly the most annoying bunch on TV...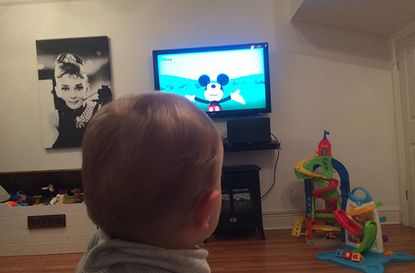 Jude from Kiki Blah-Blah was selected as one of our BISS December winners and in her guest blog explains why she thinks Mickey Mouse Clubhouse is quite possibly the most annoying kids' TV show of all time...
Oh, boy! Not this again.
It's that familiar sound. It usually happens around this time in the day, right in the middle of the witching hour. The theme tune of Mickey Mouse Clubhouse blares out from my TV... for the third time in quick succession.
Although my answer is a firm 'No, Mickey, I don't want to get up and do the hotdog dance', my 16-month-old son TJ has other ideas. He loves Disney's most famous animated creation almost as much as I used to. Actually, almost as much as I used to be a fan of all the whole gang right before it became such a firm fixture in my adult life.
It usually starts around 7.30am during the first nappy change of the day. My YouTube recommendations are largely based around Beauty and the Beast or Aladdin as that's the only way to keep TJ smiling while I get him clean and dressed for the day.
Similarly, I thought I had a stroke of genius when I bought a 'Now That's What I call Disney' CD for the car. However, it is now demanded on all car journeys and I get a chorus of 'more' from the baby in the back seat during the two-second interval between songs.
Frozen, Pocahontas and The Lion King I can just about handle if it means not having to suffer the tantrums and tears which may come without it, either from TJ or myself.
But Mickey, Toodles and the Mousekatools are something else entirely. The high pitched voices, the constant merriment, the unnecessarily long-winded problem solving, the dysfunctional personalities of some of the gang (Goofy, I am looking at you), the way Daisy is just using Donald for self-validation and how I am not quite sure Pluto has all of his needs met. It's just all too much.
I didn't see this coming. I have always loved Disney. I actually used 'so I can legitimately watch more Disney films' on my list of reasons to start a family. My (metaphorically and literally) poor parents have also taken my sister and I to Disney World more times than I can count or remember. So, as my baby belly grew, so did my excitement for many an animated adventure from the comfort of my own sofa.
I was wrong. Oh, I was so very wrong.
However, like all aspects of parenting, there are some significant perks.
As TJ gets older, he's communicating his likes and dislikes much more clearly. He will grab his Mickey (Donald or Pluto) soft toy from the toy box and adorably climb into my lap when he wants a Disney fix. He's also got Thomas the Tank Engine toys and a DVD of The Gruffalo which perform the same function to express his wishes. So, I'll stomach the background noise of cartoons while I enjoy a precious moment of stillness with my little man.
Also, credit where it's due, TJ really is good at doing the hot dog dance. He's mastered his own version of it, which is basically standing on one spot and bobbing up and down like an apple on Halloween. He gets his moves from his mother.
The best thing for me to do is to Hakuna Matata my way through and pray TJ doesn't grow a love for something even more irritating. Like Paw Patrol.
Jude was selected as a BISS guest blogger after entering our December linky. For your chance to write for GoodtoKnow, check out our Because I Said So platform.
Trusted, informative, and empathetic – GoodTo is the ultimate online destination for mums. Established in 2007, our 15-year-strong archive of content includes more than 18,000 articles, 1,500 how-to videos, and 7,000 recipes.