Mums rave about ALDI's version of fast food favourite: 'We love them better!'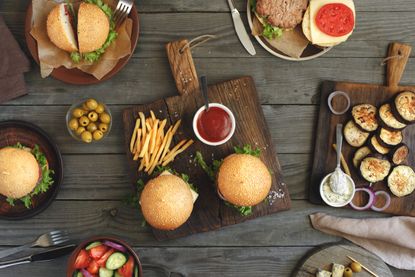 Most mums know the sound of their kids begging them for fast food, but you can now enjoy a similar treats at home for a fraction of the price.


Mums have been raving about ALDI's Buttermilk Fish Burgers - with many posting online about how similar they are to McDonald's beloved Filet-O-Fish.
Mum Kate Jordan was thrilled to discover this ALDI treat and posted on the Extreme Couponing and Bargains UK Facebook group: 'Like fillet of fish burgers from McDonalds?! Go to Aldi and get these... We love them better than the McDonalds ones!'
Read more: Cheap takeaways: alternatives to save you money
Her post was met by a huge 700 likes (and counting!) and 300 comments, with other shoppers eager to express how happy they were to find this copycat fast food treat.
Other comments were equally positive, with one mum writing: 'Omg this is my sons absolute favourite every time I go he's like mum get my fish burgers!'
Another added: 'Tried these the other day with salad and omg they are fab.'
Another happy shopper said: 'My daughter has these. She loves them. They're enormous too!'
Calorie-wise, these ALDI fish burgers are also a win. These fish burgers have 188 calories, compared with McDonald's filet-o-fish, containing 329 calories.
So how's best to serve these tasty fish burgers?
For the ultimate treat, serve the burgers in brioche buns (79p for four) with tartare sauce (a jar is just 39p) and cheese singles (69p for a pack of 20), and watch them disappear faster than you can imagine. Yum! You can also add on extras, like lettuce, tomatoes and pickles to make your burgers even tastier.
One commenter pointed out that the fish burger isn't the only fast-food copycat option at ALDI stores: 'The buttermilk spicy chicken thigh burgers are amazing too!! Just like kfc!'
At £2.99 for two, these burgers hardly break the bank either!
Next time we have a craving for fast food, we know where we'll be heading...