How to switch to the best (and cheapest!) broadband deal
Finding a good (and cheap!) broadband deal can be a real minefield. Here's our expert guide to switching to a better package.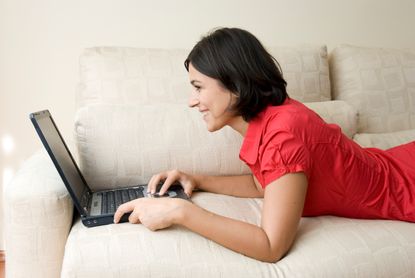 We're lucky to have a whole range of providers offering different speeds and prices for broadband. But this makes choosing the right (and cheapest!) package a real minefield.
Choosing the right broadband package is difficult. From knowing what speed you need to comparing the price of bundle deals, it's enough to leave anyone perplexed.
We've rounded up all the essential things you need to consider when choosing a deal and explain how to switch providers.
Can you leave?
Before you start thinking about leaving your provider you need to check that you're out of your contract's minimum term. Call them and check if you're not sure.
Choosing a deal
There are a few two main things to consider when taking out a new broadband contract:
How fast is it? What speed do you need? If you want to watch TV online then you'll need a fairly decent speed.


Data limits How much data do you need? If you use the internet for sending emails, reading the news and watching the odd video on YouTube then you don't need to worry too much. But if you are using it to download music and films or streaming catch-up TV then you should consider an unlimited package.
What about superfast broadband?
The main providers offering superfast broadband are BT and Virgin Media. At the moment not everyone can get it - so check with the provider directly to see if your postcode is covered. TalkTalk and PlusNet also offer packages through BT's network - so it's worth checking them out too.
Bundle
Could you save money by getting a 'bundle' deal? This where you take out broadband, home phone and sometimes TV contracts from the same provider. It also makes the setup smoother (handy if you've just moved into a new place) and means you just get billed once each month for the whole lot.
Compare
Use price comparison websites, like broadbandchoices, uSwitch and MoneySuperMarket to compare deals. Don't get sucked in by discounts - compare the price of the full contract as well as the month-by-month cost. It is important to get a realistic picture of what you will have to pay in the first year, so get your sums right before switching. Also, don't forget to factor in the cost of line rental. Some providers advertise impressively low deals to encourage you to sign up but they don't tell you that this doesn't always include line rental.
Cheaper is not always better
An ultra-low monthly subscription can be attractive but you need to consider what you're losing over some of the more expensive networks. Sometimes it's not as simple as lower data limits or slower speeds, some ISPs have a poor reputation for customer support, or you may end up paying in subtle ways like expensive cancellation fees. Customers make for the harshest critics, so look for reviews online to get a realistic picture of the service that the provider offers.
Haggle
If you're outside of your contract's minimum term then you could try and haggle with your current provider. They will be keen to keep you as a customer so ask them what they can offer you.
Get your MAC code
Some switches need a MAC code (Migration Authorisation Code) and firms have to give this to you within five days of requesting it. You can get the code by calling your current provider.
Pay your line rental up front
Line rental is a 'hidden cost' of broadband and in many cases is pricier than the package itself. Some providers, like Sky and BT, offer a significant discount of around £40 to customers who pay for their line rental upfront so it's worth doing if you can afford it.
Cashback
Once you've settled on a deal check with a cashback website, like Quidco or TopCashback, to see if they have the same offer. If they do, go through them and you could earn money just for taking out the contract.
Where to next?
Trusted, informative, and empathetic – GoodTo is the ultimate online destination for mums. Established in 2007, our 15-year-strong archive of content includes more than 18,000 articles, 1,500 how-to videos, and 7,000 recipes.