Childminding: How to become a childminder
If you're thinking about going back to work after having a baby, you may want to find different ways of working - could working from home or running your own business be the answer?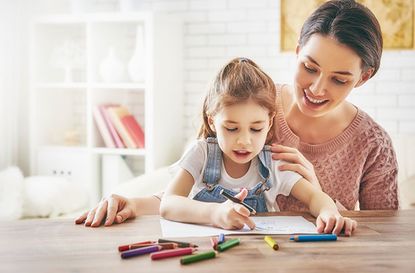 If you don't want to leave your kids, and enjoy looking after other peoples' children, becoming a registered childminder could be the perfect career for you!
It's a rewarding job which has huge perks. Not only are you able to spend all day with your own children, you'll save lots of money on their childcare. You can stay at home in your comfortable surroundings and create a beautiful bond with the children you're childminding.
Childminding is a well-paid profession and childminders create their own working hours - you can pick the families you work with and most aspects of your job are on your terms. This is an opportunity to be a hugely important figure in a child's life and make a difference to a person's early development. You could meet other childminders and become more known in your local community.
What does it mean to be a childminder?
As a registered childminder you would look after 1 or more children under the age of eight for more than two hours a day, usually in your own home, for payment. You would deliver the Early Years Foundation Stage (EYFS), which is a play-based framework for children up to the age of five and be inspected against the requirements of EYFS by Ofsted. You would offer the children you care for a happy and inspirational environment and see the children that you care for grow and develop.
What is a typical day like when childminding?
• Visiting a park, local shops, library, playgroup or children's centre • Arranging fun and stimulating learning activities, observing each child's development and planning future activities • Providing meals and snacks for the children • Taking children to and from school, pre-school or clubs • Working with other local childminders to organise group activities
How do I register as a child minder?
You must be 18 or over and have the right to work in the UK to become a registered childminder. You can contact your local council to find out about Early Years Foundation Stage (EYFS) training courses and becoming a childcare provider in your area. You'll also need to apply for a DBS check through the Ofsted portal and you can apply online for the Childcare Register and EYFS register.
Keep in mind you will have to pay a fee to join the registers, which could be from £35 up to £220 depending on which register and where you will be childminding.
Registration may also involve completing a Paediatric First Aid course and an introductory childcare course of at least 12 hours. You must get public liability insurance as a condition of your registration. Once registered you can join the National Childminding Association who will provide you with help and advice in getting started as a registered childminder. You will also be able to access Public Liability Insurance, money off accounts books and contracts.
Trusted, informative, and empathetic – GoodTo is the ultimate online destination for mums. Established in 2007, our 15-year-strong archive of content includes more than 18,000 articles, 1,500 how-to videos, and 7,000 recipes.