Poundland will start selling products for £10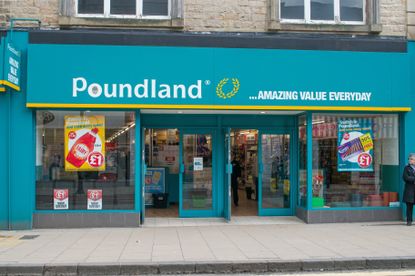 Start saving your pennies, Poundland is all set to sell goods for a tenner - including bulk boxes of washing powder.
Poundland who, as their name suggests, made their mark selling household faves for a mere quid, is unveiling a wider range of products at a pricier £10, including bulk boxes of washing powder.
Following a 24-store trial earlier in the year, which included goods priced at 50p, 75p, £3 and £4, all 800 stores across the country will now benefit from their ever-growing range of products.
Given the value chain's 2017 success when they expanded their range to products priced at £2 and £5, including a cheap and tasty meal deal, it's sure to be another hit die-hard Poundland lovers will buy in to.
Explaining the decision, Poundland transformation director Mat Ankers said the move is part of Poundland's change from a 'single price' to a 'simple price'.
"We're actively training and preparing now and will have it live in stores by the middle of next month with some marketing shortly after," Poundland transformation director Mat Ankers told The Grocer.
The retailer has also started trialing its first frozen food range in Ashbourne, Derbyshire, and is set to extend the offering to four more stores this month. Also offering chilled and fresh ranges, we could soon see the new products in 250 stores across the country.
Founded in 1990, millions of savvy shoppers grab great deals at their local Poundland every week. It's no surprise why. Even with the new pricier range, with products starting at a mere 50p for Cup-a-Soups and tins of Heinz Baked Beanz to £10 for bulk boxes of Ariel, Fairy and Bold washing powder, bargain hunters who shop at the discount store will still be quids in.
Given the chain has a dedicated Facebook group (opens in new tab) with more than 38,000 members raving about everything from Poundland's clothes to make-up, these 'well chuffed' fans are bound to be thrilled with the company's new product-expansion plans.
Let the shopping begin!
What are your best Poundland buys? Let us know on Facebook!