Mum left 'stunned into silence' after stranger pulls out her son's dummy during supermarket trip
Unbelievable!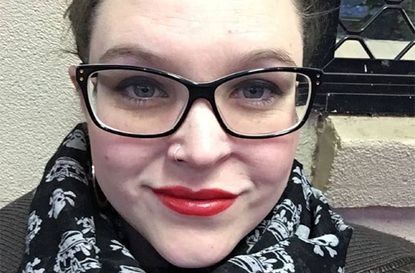 Mum blogger Corissa Rieschieck has written a post revealing her anger after a stranger removed her son's dummy and scolded her during a supermarket trip.
Writing on her blog, Corissa admitted 'Parenting is not something I feel I'm particularly good at...there are definitely things I do as a parent that help me get through the day. One of those things is that I let my now two-year old gremlin still use his dummy.'
Taking her son to the supermarket, Corissa felt the frustrations that many of us do when a child gets bored and stroppy walking round the shops, especially when he would much rather be playing with the toy car at the front of the store.
The mother of one tells how her toddler 'exploded in a frenzy of screaming and kicking when I informed him that no, he wouldn't be going on the car until after we had done our shopping.'
But once her shopping was done, and her son had been rewarded with a ride on the toy car, he started to fuss again, so Corissa started 'dragging the once more kicking and screaming gremlin from the car and into the trolley, I pulled out my trusty accessory and with his dummy firmly in place, the crying ceased and we began making our way towards the exit of the complex.'
Which is when a complete stranger confronted the mother and her child and physically removed the two-year-old's dummy before telling Corissa off.
'Out of nowhere, an older woman approached us. She reached out, promptly plucking the dummy out of the gremlin's unsuspecting mouth while scolding me about how he doesn't need it and I shouldn't be so bad a parent as to give it to him.'
Unsure of how to react, the blogger was 'stunned into silence' as she watched the older lady walk off holding her son's dummy, before coming back to make a second attack. Berating her again, the stranger continued to 'belittle' Corissa, who was still too shocked to say anything.
In an act of defiance she took the dummy and put it back in her son's mouth but is now speaking out about her frustration of not being able to muster a bigger reaction.
'That anger at myself for not responding, for being so shocked by the situation that I didn't tell that woman to go f**k herself still sits inside me to this day, months later.'
She is now asking, 'Why do people feel the need to comment on the way those around them parent? Do they not remember how hard being a parent is?
'Have they never experienced moments of doing something as a parent just to get through? Or, if they're not parents themselves, did they never learn that it wasn't okay to be so rude?'
Have you ever experienced something similar to Corissa? Let us know in the comments below!
Trusted, informative, and empathetic – GoodTo is the ultimate online destination for mums. Established in 2007, our 15-year-strong archive of content includes more than 18,000 articles, 1,500 how-to videos, and 7,000 recipes.