Mum sparks debate by judging parents for giving their son a VERY unconventional baby name
Would you judge parents for the name they picked for their children?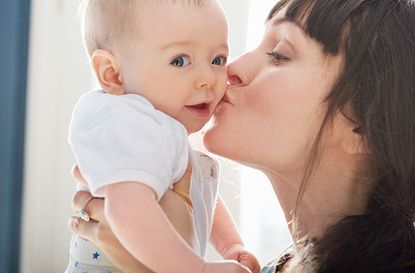 GoodTo newsletter
Sign up to the GoodTo Newsletter. You can unsubscribe at any time. For more information about how to do this, and how we hold your data, please see our privacy policy
Thank you for signing up to . You will receive a verification email shortly.
There was a problem. Please refresh the page and try again.
A mum has sparked controversy in an online forum by judging the parents of a boy with an unconventional baby name (opens in new tab).
The mum asked if she was being unreasonable for judging a baby's name, whose parents called him Kaiser.
'Am I being unreasonable to judge this baby's name..or rather the parents that chose it?' she asked in a Mumsnet thread.
She added: 'Overheard in the local shop a young girl (8ish) telling her friend that her new baby brother is being called....Kaiser. She wasn't joking.'
The mum split opinion with her honest post, with some people confessing that they would also judge the parents' unusual choice (opens in new tab).
'I'd judge yeah. I hate it when people give their kids names which may damage their future prospects. Someone I know has just called her baby boy Ozzy', while a second wrote 'What a terrible name 😐'.
A third wrote: 'A third revealed: 'On hols in Wales about 8 years ago there was a Jamiroquai (?) in Poundland....'
Would you judge another parent for the baby name they picked?
Some people suggested the parents could be of German origin, as Kaiser means Emperor in German: 'Maybe they are German speakers? Bloody awful name though.'
Others didn't think the name was that odd, with some even saying they've heard 'a lot worse'.
'I think on a list of dodgy baby name choices, this is wayyyyyyy towards the 'normal' end,' one wrote, whilst a second agreed: 'Theres worse....there is a Shakira in my daughters school.'
One Mumsnet user even said she considered Kaiser to be 'a dog name'.
According to Baby Center, Kaiser is becoming a more popular name in the US, with the number of babies named Kaiser doubling in the past two years.
According to Nameberry, the name was made popular by MTV Teen Mom star Jenelle Evans, after she named her second son Kaiser.
'It fits the two-syllable -er ending style that's all the rage, and it lends itself to the short form Kai. But we hope this Germanic version of what is essentially a title rather than a name does not catch on (a hope we are sure is futile)', Nameberry say of the name's popularity.
Would you judge another parent for the name they picked for their children? Let us know in the comments!