'My son was anorexic like me'
When Susannah Moore's nine-year-old son developed the same condition she'd suffered herself, there was only one person to blame...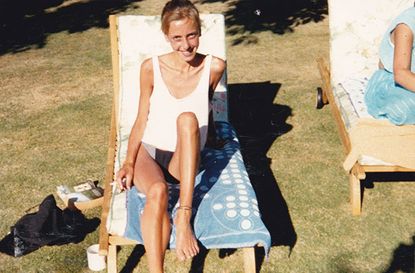 We're used to hearing the expression, 'You've got your mother's eyes', but inheriting your mother's eating disorder? That might be something you've not heard of before.
That's exactly what happened in the case of Susannah Moore, when her nine-year-old son developed the same condition she'd struggled with in her earlier years.
You might associate anorexia with women and young girls, but it is also known to affect adolescent boys and men. It's less common, and worryingly, the signs are often less obvious. We spoke to Susannah about her anorexia and how she felt when it affected her own son years later.
'I lied about eating while I was out with friends'
Growing up, I had the perfect life, but inside, I felt far from perfect. Adopted at six weeks I was a happy child. I only started feeling 'different' when I was seven and realised all my friends had been born to the women they knew as their mothers, but I wasn't wanted. Gradually I grew to hate myself.
'I grew to hate myself': Susannah pictured during the height of her anorexia. By the age of 15, my daily diet was eight cans of Diet Coke, 20 cigarettes and two carefully weighed portions of All Bran with watered-down skimmed milk. I also lied about eating at friends' houses. I dropped from 8 stone to 5 stone 7lbs (I am 5ft 4ins tall). I was starving myself to death. But for the first time in my life I felt happy within myself.
'I'm sceptical that 100% recovery is ever achievable'
As the disease tightened its grip, I became more and more sick and, eventually, out of sheer desperation, I sought help. It took years of therapy and counselling for me to realise the danger that I'd put myself in. But I remain sceptical that 100% recovery is ever achievable.
At 28, I met my husband, Byron and marrying him in 2000 provided me with the stability and continuity I needed to feel that I could 'get well' again. In 2004, I had my son, James* followed by my daughter, Scarlette*, two years after that. Strangely, pregnancy didn't affect me. In fact, I was proud that it was still able to grow a healthy human life after all I had put it through.
'I never suspected for a minute something more sinister was happening'
James was perfect in every way. I remember gazing at him, promising myself that I'd keep him safe and secure. He was always a small child, but he was sporty and competitive. At the end of 2013, when he was nine, he started working out, telling us he wanted to 'bulk up' and get fitter.
Susannah was no stranger to the signs of anorexia.
We were proud of our mini-athlete, never suspecting for a minute that something more sinister was happening. In a matter of months though, the situation was clearly deteriorating. James was up every day at 6am, obsessively exercising.
'I recognised it as anorexia, but James was totally unreachable'
With increasing panic I confronted him, only for him to scream at me, his face full of such fear and anxiety that he looked possessed. I recognised it as anorexia, but James was totally unreachable.
I ached to put my arms around him, 'I don't want people to help me live', James screamed at me one day. 'I want people to help me die!' I felt desperate, impotent. My child was hurting and I couldn't help him.
As we waited to see our GP, I wondered where I'd gone wrong. I was a terrible mum. I should never have had children. I had passed self-loathing on to him in my genes. It was all my fault.
In June 2014 James was diagnosed with early onset anorexia and began treatment as an outpatient at an eating disorder clinic, near our home in Surrey. He was clearly relieved to have someone else's permission to stop the punishing workouts and restrictive diet. Each day since then, a little more of our son is given back to us.
'We need to teach our children that it's alright to be different'
As a society we must stop poking at our wobbly bits and grumbling, and instead become positive role models. We need to teach our children that it's all right to be different, to have insecurities, not always to feel 'normal'. It's okay for them to fail sometimes - that all their talents, skills, imperfections, quirks and differences combine to make one perfect 'them'. That way, hopefully, fewer children and young people will know the misery of anorexia.
Susannah has launched the 'Body Marvellous' campaign to tackle the various issues raised in this article. You can follow her on Facebook or @Body_Marvellous
Trusted, informative, and empathetic – GoodTo is the ultimate online destination for mums. Established in 2007, our 15-year-strong archive of content includes more than 18,000 articles, 1,500 how-to videos, and 7,000 recipes.