Myleene Klass: Interview Rihanna? But it's parents' evening!
We chat to Myleene about all things motherhood, from lazy Sundays to taking the girls to work to parents evening...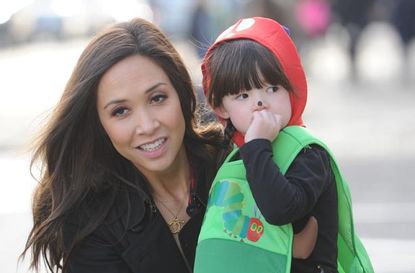 Myleene Klass is one busy lady. She's a single mum bringing up two (adorable) girls, Ava, 6, and Hero, nearly 3. She's a presenter, model and TV personality, she's a dab hand on a piano and even has a degree in astronomy would you believe?
We caught up with Myleene, who's currently helping Littlewoods with its hunt for Talented Mums from around the country. And we have to say we reckon she's a good choice of judge as she knows a thing or two about being a parent...
goodtoknow: What's your favourite thing about being a mum?
Myleene: You never sweat the small stuff anymore. All those times when you thought about: 'What shall I wear?' 'What shall I read?' 'What shall I do today?' All that indulgence... it's just all so concentrated now. You have to make every second count. It's lovely to be able to focus like that. Full stop, my girls come first. Every single time, no doubt about it.
Do you get much time with the girls?
They come to work with me which is really nice because they get to see what Mummy does. They get an idea of it and it's not so mystified. I've just posted an Instagram shot of Hero holding some Penny Blue stamps (pictured below), and the guy said: 'These are worth £200,000! You should take a photo of Hero with them', and gave them to her. I was like: 'What are you doing?!'
Myleene's youngest, Hero, keeps Myleene waiting with baited breath as she holds a pair of Penny Blue stamps worth £200,000!
They come to all the live orchestras, they definitely come and see the photo shoots, and they're just nonplussed by it. I think it's good for them to be able to see where I go when I disappear to work, they have an idea of what I'm doing.
What do they think of you being famous?
I don't think it registers, and I'm going to keep working hard for it not to register. Your mum's your mum. She's the one that still folds your pyjamas up and still nags you to keep your mouth closed [when you're eating] and remember your manners.
Perks of the job: Hero gets a mini manicure on mum's knee!
There's no special treatment in my house for me. Recently I got offered the opportunity to interview Rihanna and I was like: 'I can't - I've got parents evening.' I just remember hearing those words come out and thinking: 'This is hilarious!'
I'm trying to get the work balance right here, and right now Ava comes first, so I didn't go. I don't think people believe me when I tell them.
'I don't want my girls to worry about who they're marrying or how they're going to climb up a social ladder, it's ultimately about being happy.'
Do you have any advice for new mums?
I would say ignore all advice. That's the best advice. Everybody suddenly knows how to raise your child - except you apparently. Ignore all criticism, ignore everything. Mum knows best. Do it your way. You and I wouldn't choose the same dinner, but suddenly, I know how to raise your child?
It's just nonsense. Mums should have a community. And all this stuff about breast milk versus bottle feeding mums, and working mums versus the school mums, no one's doing this to the guys. The guys are all saying: 'Yay, jobs for the boys, I'll help you out there', and all us women have got our elbows out. It should never be like that.
Myleene with her girls, Ava and Hero, dressed as The Cat in the Hat and The Hungry Caterpillar for World Book Day.
I'm raising two girls and I want them to feel part of a huge female community where they can look after each other and themselves and their ambition is to be happy in life. I don't want them to worry about who they're marrying or how they're going to climb up a social ladder, it's ultimately about being happy.
And what's your favourite thing to do with the girls?
My favourite things are the simplest things. We end up painting plates most Saturdays (at the moment it's dolphins and cats). Bike rides seem to register really high at the moment which is killing my back because Hero's still on stabilisers. I have to bend down the whole way to the park and push her all the way back up the hill. She always says: 'Let go! Let go I'm fine!'
Lazy Sundays, movies on the sofa... just the really simple things.
Do you know any #TalentedMums? Myleene and Littlewoods are launching a brand new Mother's Day competition to give away a jam-packed luxury weekend in London for the winning mum and a friend, as well as £250 to spend with the online retailer on any treats that take her fancy. To find out how to enter visit littlewoods.com/talent (opens in new tab).
Where to next?
Read our heart-warming interview with the gorgeous Peter Andre
Things you should never say to a new mum
32 things that only happen when you're pregnant (opens in new tab) - oh the joys!
Gemma Chandler is a lifestyle writer specialising in kids' educational media across a range of topics including nature, history, science and geography across digital, print, social media and video channels. She joined Creature & Co. at 2015, shortly becoming Digital Editor of National Geographic Kids magazine.