New Girl actress Hannah Simone welcomes her first child
Hannah Simone has a whole new way of life to enjoy… being a mum!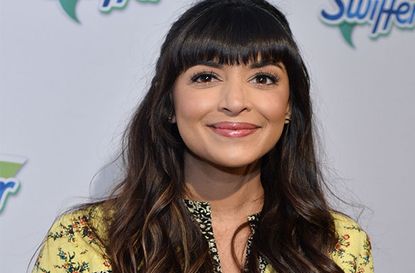 New Girl actress Hannah Simone and her husband Jesse Giddings have welcomed their first child together.
A rep for the couple confirmed to E! News that they had become parents to a healthy baby boy earlier this month. However, Hannah and Jesse - who secretly wed last year - like to keep their personal life private, so fans may not be receiving any more details for a while.
Jesse last posted about Hannah on Christmas Eve 2016 with the caption: 'Heading home for the holidays.'
[instagram]
pair only occasionally take to social media to share personal snaps but - at least according to their social media accounts - appear to have been dating as far back as 2014.
The couple are also dog lovers, sharing this image captioned with 'Selfie competition: Hannah and I clearly lost to Mare.'
It was only revealed in April this year that Hannah, 37, had secretly wed TV personality Jesse, 32.
The low-key duo have never officially confirmed their relationship, but tied the knot in an intimate ceremony in July 2016, sources told US Weekly earlier this year.
Hannah was born in London, to an Indian father and an English mother but is considered British-Canadian. The actress and former model shot to fame as Cece Parekh in 2011, playing the best friend to Zooey Deschanel's central character Jess in New Girl.
Hannah's hilarious antics have made her a popular character on the show, and, as coincidence would have it, Hannah's pregnancy lined up with her New Girl storyline, as during the season finale, her character Cece also found out she's expecting a baby.
Hannah is in good company with on-screen pal Zooey on hand with parenting advice, as Zooey gave birth to a baby boy (opens in new tab) of her own named Charlie Wolf in May. His father is producer Jacob Pechenik and Charlie is their second child together, their first being a daughter named Elsie Otter.