New mum's social media followers diagnose her with painful breastfeeding infection mastitis
Zoe Hendrix didn't realise what it was until she asked her social media followers...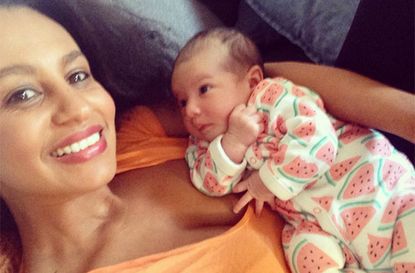 A new mum's social media following came to her rescue by correctly diagnosing her with painful breastfeeding infection mastitis, after she complained of flu-like symptoms.
Social media gets a lot of flack in this day and age when everything we do seems to revolve around likes and followers, but this story shows how social media communities can really help each other out.
New mum and Married At First Sight star Zoe Hendrix posted a picture to her Instagram account to have a good moan about how rubbish she was feeling, looking after her eight-week-old baby and suffering with flu symptoms.
What she didn't realise was that her sore throat and temperature were actually a painful infection called mastitis, and that it would be her Instagram followers who would help diagnose her!
Zoe posted an image showing her lying in bed, looking tired and fed up with headphones over her ears, all the while soothing her baby daughter.
She captioned the image describing symptoms which Zoe presumed were flu, and venting how difficult it is to fight through illness when caring for a baby.
'SICK AS a flea bitten dog in the backstreets of Bali. Except I'm not in Bali I'm in bed with a temp of 39, sore throat, body aches and an 8 week old.'
She went on to applaud all the mums and dads that deal with illness on a daily basis, writing, 'I salute all you mums/dads with chronic and serious illness who get up everyday and push through the pain and take care of your kids . 👏🏽✨ this shit is hard 😫 #migraneandcryingbaby #notafunmix #shootmenow'
But Zoe's quick thinking followers recognised her symptoms as the painful infection that affects a lot of breastfeeding mums, mastitis.
One user wrote on her photo, 'Sounds like mastitis. I got it about seven times while breastfeeding, so I used to ask the doctor for the prescription and have the antibiotics on hand, ready to take at the first sign of infection' and another agreed, 'Ugh. Sounds like mastitis. I had it and thought I was going to die!'
Mastitis happens when the mammary glands inside a woman's breast become infected, usually when she is breastfeeding, leaving her with sore, inflamed and hard-feeling breasts. Mums also get flu-like symptoms like an aching body and headaches.
Thanks to the outpouring of concern from her followers, Zoe took their advice and spoke to her doctor who confirmed she did in fact have the condition.
Zoe responded to her fans by posting an adorable bath time photo with her baby, saying a huge thank you to her 74,000 followers who helped her spot her condition.
The post read, 'THANK YOU 🙏🏽 to all you wonderful and switched on followers who informed me about Mastitis in my last post (which I thought was just the flu)
'I have been on antibiotics, pain relief, and my angel of a mother in law has been helping me care for Harper. I am starting to feel human again after feeling like I was hit by a truck!#thankyouinstafam 🙏🏽❤#bathtimebaby'
We love it when mums share their knowledge and advice to support each other. Have you used social media to reach out to other mums? Tell us about your experiences in the comment box!
Trusted, informative, and empathetic – GoodTo is the ultimate online destination for mums. Established in 2007, our 15-year-strong archive of content includes more than 18,000 articles, 1,500 how-to videos, and 7,000 recipes.